2015 – starting my second year of woman photography.
---
Kinga, 2015-12-05, Warszawa (Old Town)
Winter session in the Warsaw Old Town.
Kinga naturally poses in a sweater, as a result we have beautiful, delicate portraits in soft light just before sunset. As a result Old Town again meets my photographic expectations and King also does.
---
A reconnaissance session with Ilona. It's getting really cold, so we meet in the studio. I manage to borrow two furs for this session, seems like Ilona is delighted. Furs probably also like Ilona, because they perfectly mach her beauty. 
We worked in Fabryka Światła.
---
Ewelina, 2015-11-22, Warszawa (Soho)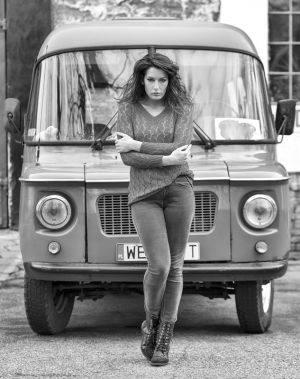 It is a little cold, but nevertheless we decide with Ewelina that we will soot outdoors. We meet in Soho in Warsaw. Ewelina has plenty of interesting ideas. First, we find the antique car and we use it as a session gadget. Then they we found old Nysa cars used by the PRL militia. At the end some portraits. After the session we drink coffee at a local coffee shop, we both needed it because we were already cold.
---
It was a short, spontaneous session in studio, without many preparations. Wiki planned everything, poses and styling.
As usual, we met in Fabryka Światła.
---
Sara, 2015-10-17, Dworek Janowicki, plener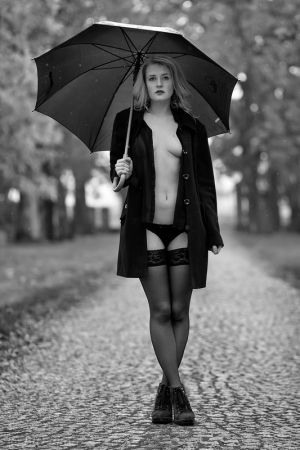 Just a few pictures with Sara, because we worked late in the day and just ran out of time. But still there was something to chose. I hope to meet Sara again one day, then we'll have longer session.
---
Nadia, 2015-10-17, Dworek Janowicki, plener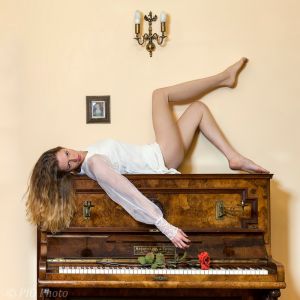 Nadia's posing was very nostalgic. The pictures with piano are very intriguing, but I think the best is when Nadia stands in the doorway. Back lighting beautifully shaded her already very slim silhouette. And the framing door also does it's job perfectly.
---
Mia, 2015-10-17, Dworek Janowicki, plener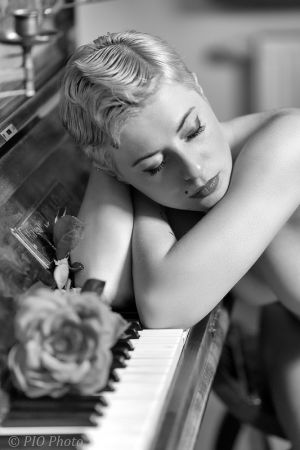 We've met earlier with Mia in Studio Huśtawka. This time we had a short portrait session.
---
Marta, 2015-10-17, Dworek Janowicki, plener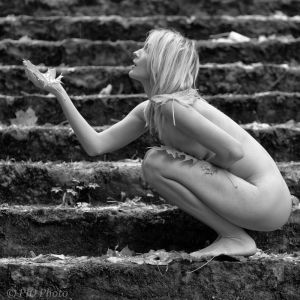 Marta posed very bravely even though it was very cold and we worked outdoors. I admire her endurance and resistance to cold. After the outdoor session Marta was frozen, so we did the warming session in a bathtub filled with pleasant warm water.
---
Justyna, 2015-10-17, Dworek Janowicki, plener
Justyna looks very mysterious and subtle and therefore we came out with very interesting portraits. They remind me of the land of the elves.
And Justyna really posed like an elf. The only thing she was missing were the pointed ears, but let's assume, that long hair just covers them.
---
Bronx, 2015-10-17, Dworek Janowicki, plener
Another great photo meeting with Janek, this time in a beautiful manor Dworek Janowicki. Six beautiful models and several vintage rooms. Huge stairs at the back of the court approaching the stylish back door. Stable. A beautiful entrance gate leading to the driveway with a fountain. This all gives lots of possibilities for cool shots.
---
Enigma, Magda Z, Lila, 2015-10-11, Hotel Fajkier, workshop
Three beautiful women, it's hard to choose where to focus. They also had a problem with focusing on one photographer, that's why they are looking in different directions.
---
Patti, 2015-10-11, Hotel Fajkier, workshop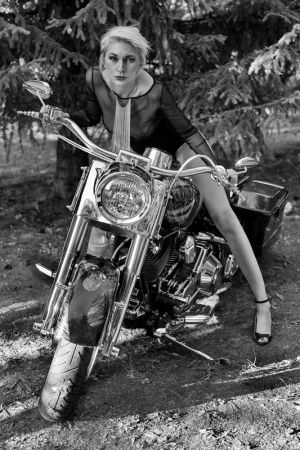 Leggy woman on a Harley, you might want to see it.
---
Lila, 2015-10-11, Hotel Fajkier, workshop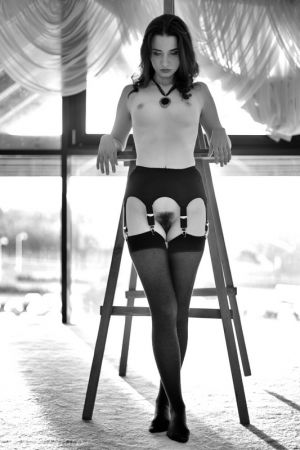 With Lila we were shooting in several places: in the car, in the apartment and in the lobby. It was beautiful everywhere , but probably the most interesting scenes are from the lobby. Lila miraculously combines the beauty of the female body with the a mysterious innocence.
---
Enigma, Magda Z, 2015-10-11, Hotel Fajkier, workshop
Emotions that we see here are probably something more than just a game for the session. The girls like each other. I was lucky to be there at the right moment, and with the camera!
---
Magda Z, 2015-10-11, Hotel Fajkier, workshop
Apart from the obvious aesthetic qualities of Magda, there is still her gaze. The combination of all these elements gives such effect, that you can see.
---
Enigma, 2015-10-11, Hotel Fajkier, workshop
It was a great workshop conducted by Bartek vel NinoVeron. Apart from the shooting there were a lot of lectures – Bartek shared with us his knowledge and experience. Among other things, there was a lecture about makeup, edition for photographers. They explained how to not spoil the contouring makeup in the postprocessing. That was fascinating. There were other lectures, equally interesting. Great use of time, that the models need to prepare for the session.
The hotel itself was also a great choice. We had access to several apartments, each of them had a different design. Beautiful stairways, swimming pool, Harley. Beautiful antique car, where I did the best picture of these workshops. Grand banquet hall with a piano. An impressive choice of location, and great models.
This is Enigma. Those who know her do not need any explanation. Those who don't, please see the pictures.
---
Malwina, 2015-09-29, Zawady
Shooting a model illuminated by the headlights of the car turned out to be quite a difficult task. Other cars that were passing around from time to time were a bit disturbing especialy that they slowed down. But we finaly managed to do take some interesting shots.
---
To take advantage of the nice weather we went to the great meadow on the Vistula banks just before sunset . The main subject were the colorful flowers that covered the meadows like a great Persian carpet, but we also tried few car shots.
---
Malwina, 2015-09-12, beach on the Vistula River
This time we arrived on the floating logs with the Malwina and it came out pretty well, too. Malvina also has no problems with entering into the water, so the shooting went excellent.
---
Monika, 2015-09-06, beach on the Vistula River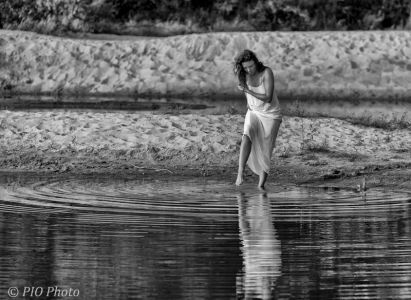 Reconnaissance session on the beach on the Vistula River on a sunday morning. Monika prepared great styling. We found a really cool place with floating logs. Monika was not afraid to get wet, so she managed to get to the floating tree. I also had to go into the water, even quite deep, to get the right angle. Then we did some more shooting on dry land, also in the Indian styling.
---
Martyna, Malwina, 2015-08-29, beach on the Vistula River
We managed to meet with both twins, even though it was not easy. Meeting at MacDonalds and getting to the location was no problem. There were some sparks between the sisters, but finally we managed to take some great shots. I have to say it was worth the effort to organize the event and then to keep the company under control.
---
Martyna, 2015-08-29, beach on the Vistula River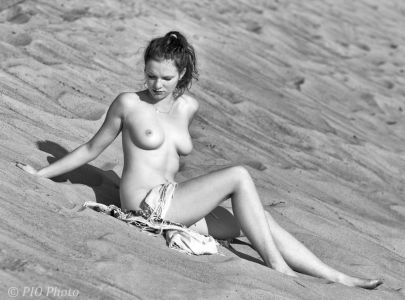 This is also from group sessions with twins, Martyna here alone.
---
Malwina, 2015-08-29, beach on the Vistula River
We had a group session, Martyna and Malwina together, but we also did a shooting of single models. Here Malwina alone.
---
Joanna, 2015-08-24, beach on the Vistula River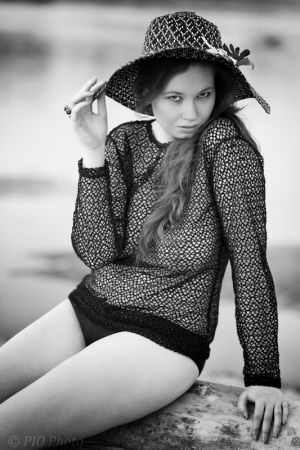 This is the first meeting with Joanna, and so successful, we really did a lot of great shots. We were on the beach on the Vistula river just before sunset (golden hour), almost alone, so we could work undisturbed. Joanna was feeling well in this scenery because she posed freely, se did a great job as a model. We had a lot of session cloths, so we were able to try different stylings.
---
Sonia, 2015-08-05, Warszawa (Citadel)
This is a reconnaissance session with Sonia. It's a very nice girl with a special charm, so she makes a perfect subject for portraits. It's a pity that we did only few. I hope we'll meet again one day for a dedicated portrait session. 
---
Monika, 2015-08-01, Wyszogród, plener
Monika has a very delicate constitution and his face is covered with beautiful freckles. She posed with charm.
---
Thinloth, 2015-08-01, Wyszogród, plener
Mistress of horses. Lady of all other animals. Meet the mysterious, long-haired and beautiful Thinloth.
---
Bronx, 2015-08-01, Wyszogród, plener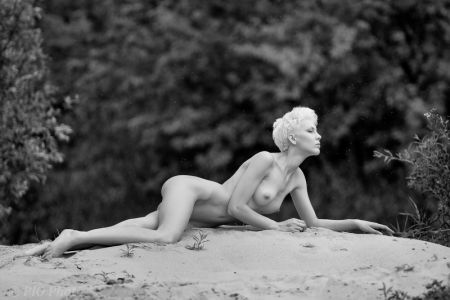 This is my first poto meeting with Janek and I'm very happy that I came here. We had three great models. Although the sun was harsh, we had a wild Vistula and the great empty beaches, so the scenery fit to the light. Two dogs and a horse were a very interesting addition. One of the models (Thinloth) is a great horse rider, so we had the opportunity to shoot her in a gallop. Dogs also did a great job in posing.
I started the shooting from Bronx. Beach scenery. Hard, bright light, but Bronx posed so gracefully that we've got really lovely pictures.
---
Marysia, 2015-07-31, Warszawa (Old Town and Citadel)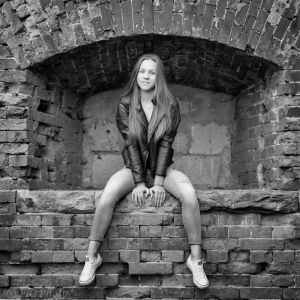 A brief evening session in some  popular places in Warsaw.
---
Christina, 2015-06-20, Algarve, Portugal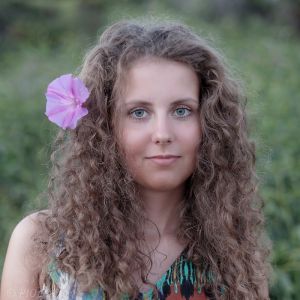 It was an interesting story. We were on vacations and I managed to get on posing one of the waitresses from the hotel. It turned out that she is a student who came to Portugal, to make some money and to learn the language. We did a cool evening shooting on the beach.
---
We meet in the Kępa Potocka park.
We start shooting here, but the sun is still high and it is not easy.
Then we move to Citadel where Kinga is posing with the old brick as a background.
---
Another visit to Studio Huśtawka. Two models were supposed to show, but one of them did not arrive. Luckily we managed to get on posing Kaja, who was in the studio as a person accompanying studio manager. Kaja, even though she posed with no preparation, did it perfect.
And Ewa presented her tatoos.
---
This is my first encounter with Blanka. She is a plus size model with great talent and the desire to pose. Studio Fabryka Światła.
---
Malwina, 2015-02-14, studio
Two weeks after the session with Martyna I met with her twin sister, Malwina. Physically similar (though not identical) they have completely different personalities.
Malwina is different than her sister, but she was working with similar involvement as Martyna. She prepared great styling and makup and was very focused on shooting during the whole session. We worked in Fabryka Światła.
---
Martyna started posing not so long ago and immediately began serious sessions.
We had very good communication and understanding each other. Everything run without problems. Martyna knew what she wanted and was able to achieve that.
I wanted to try new studio Fabryka światła. It turned out to be a nice place, they have everything what I need for a shoot, good location and reasonable prices. I think I will visit them again.
---
Maja, Wiki, 2015-01-24, studio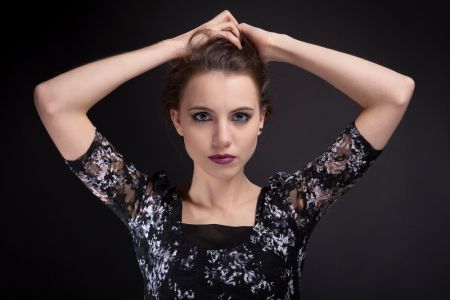 Private session in Studio Huśtawka. Two models, two locations, three photographers.
---