2017 – Three years have passed since I started woman photography.
---
Marcelina, 2017-12-10, Old Town
We meet under the Zygmunt's Column, as usual.
I forgot that it is 10th, and Marcelina will come from the side of Krakowskie Przedmieście. But she is very brave, she leaves the bus and reaches the place on foot, actually without delay. Such a small victory to start with.
The weather is good and we are in great moods. We're starting to conquer the Old Town.
This is our first meeting, but we understand each other perfectly, we work quickly and effectively. We move from one photographic location to the next, sometimes we wait for the passers-by to go. During this time, we talk a bit or try to take a picture so that other people can not be seen.
When we reach the spiral stairs and do another mini session there, it gets dark.
This is the end for today.
Thank you Marcelina for a nice Sunday afternoon, I had a great time, I hope you too. It did not hurt the shooting. After coming home, it turned out that there is not much to delete. I would like the sessions to be always so successful.
---
Minerwa, 2017-11-11, dark reaper
After the main planned session, I did a few shots of Minerva. Just portraits.
It would be a shame not to use such a unique stylization, I do not know if we will ever go through it again.
Minerva, as usual, poses with full commitment, perfectly takes on the character. Inside is already quite dark, we're doing some studio with a lamp and black background, then we go outside. The remaining light allows us to take several final shots. 
Cigarette is a great addition to a session with death, right?
---
Marzka, Minerwa, me, 2017-11-11, death
This time, quite unusual session.
Unusual for several reasons.
First, there are pictures not only taken by me. I had Agnieszka and Filip as photographers team.
Second, on many pictures I posed with Minerwa, maybe I just started modeling career, you can never tell.
Finally the session topic is wierd so to say.
The preparations lasted a long time. We planned the session to have two parts, one in the studio, the other outdoor, but so far we managed to implement only the first part. The second session, outdoor, is still ahead of us, and I hope to do it before year end.
Minerva was responsible for the costume, styling and make-up. In my opinion she fulfilled this task perfectly, it's hard to imagine how to do it better. Inspirations for the shots were mostly my idea, but the rest of team also had their share. Anieszka and Filip stood behind the cameras, in the end I also took some portrait shots.
I hope this topic does not offend anyone, the idea behind it is to raise some positive emotions. It's all about the visual and emotional effect.
There will be more pictures soon, so far I have only that.
---
Natalia, 2017-10-30, outdoor Warszawa
I was with Natalia in the spring on a photo event, but we did not meet on a session, she posed for other photographers and I shoot other models.
Then several times I tried to make a date for a session when I was near the place where she lives, but it always did not work, there were obstacles and we were not able to meet.
But one have to be patient. Finally, I get my chance. Natalia arrives for a few hours in Warsaw for a casting.
We set up a meeting in the morning, I have a plan for the session on the railroad platform, but I have to face another change of plans. Natalia asks to reschedule the meeting at a later time.
Finally, we meet on the street. It is very cold, but at least it is not raining, we have a gentle sun shining through thin clouds, as if someone had opened a gigantic blend in the sky. The light is beautiful, just as the model. We work spontaneously, without any plan. Natalia's unconventional beauty, her extraordinary posing, the way she looks at the lens, the wonderful mixture of delicacy and self-confidence does the whole job. I just try to take sharp pictures, I know that the result will be perfect.
And it is.
---
Patrycja, 2017-10-19, park Łazienki 
It was the fastest session preparation in my career.
We tried to make an appointment with Patrycja  in August. There were several approaches, but we could not find a date that would fit us both. Patrycja wrote to me while I was in Sopot. I called her the day after my return and asked "when would you like to have the session with me?" The answer was "Today!". Two hours later we were driving to Łazienki park. Perfect timing!
We park on the Szwoleżerów street near the north entrance to the park. Immediately after crossing the gate we get to the magical world of fabulously colorful autumn leaves.
Patrycja's styling fits nicely with the surroundings. We make of use proven locations like stairs, antique doors, stylish benches. But nothing beats the image of Patrycja on the background formed by the carpet of autumn leaves. We make some more shots in the amphitheater and under the trees with the the hoar reeds in the background.
Finally, we end up with ideas and with the light. We walk slowly through this beautiful Warsaw park to a our parked car.
Thank you Patry for this wonderful afternoon shoot. I hope you will stand before my lens again some day.
---
Kornelia, 2017-10-14, Sopot apartament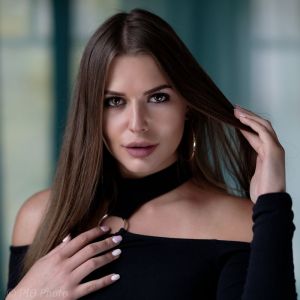 We are taking a short autumn break over the sea.
We choose Sopot as a destination. On Booking we find a very nice, sunny apartment within three minutes walking distance from the beach.
We come just for a few days, our plans are mostly just-do-nothing. In addition, long walks on the beach, fish tasting in local pubs, and of course some shooting with local models.
I want to try a new lense, Sigma 85 1.4 ART, we give it a try with my good friend Cornelia. It happens that this time she is also in Sopot and wants to pose for me.
The are shooting in our beautiful apartment. There is not much light, we have autumn, but the fast lens does it's job.
We have a living room and a bedroom with a mirror. We use the environment of the appartment, there is a beautiful color matching with Cornelia's dress. With such experienced model, with whom we have worked many times already, and we know each other well, the success is guaranteed.
---
Fotogenerator, 2017-10-07, brick factory in Plecewice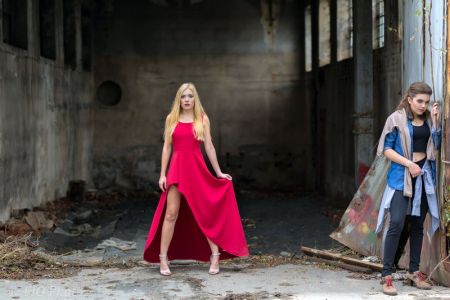 This my second Fotogenerator.
This time morning edition, not in the studio but in the brick factory in Plecewice near Sochaczew. It's over 50 km, I go by car. On the way I take the designer and model.
We reach the place without any problems, even a little ahead of time. You can look around, plan where to shoot, drink coffee, eat a cake, talk to other participants in the event.
Around ten there is an official opening, training of occupational health and safety – we work on the premises of an active workplace. Soon  the first model is ready to pose.
The brickyard offers very different places and equipment. Specialized vehicles, excavators, brick production equipment. All this can be used as a background. Photogenerator team provides lighting, because the brickyard is quite dark. Despite of using fast lenses, you often need to reach high ISO, sometimes even 800.
In addition, we can go outside. There is some mud, but who cares? There are old buildings, bricks, etc. And there is plenty of natural light.
The models, as usual on the Fotogenerator, are perfectly prepared. They have beautiful styling, perfect makeup and a lot of posing ideas. You can also rent Sigma lenses, including the ART version. In such conditions a lot of cool pictures are created.
---
This time we have a short shooting for official purpose.
Some simple portraits that can be used as an official image.
We work indoors, so we are almost independent of the weather. Almost, however, because the cloudy weather influences the kind of light we have at our disposal. It is quite low, without artificial light it is necessary to use high ISO, but the portraits are soft and delicate. Just like my model.
Caroline, I wish you success in your academic career. I hope that you enjoyed this shooting and that the pictures we created will be useful. 
---
The next session in Munich with Caroline and someone else …
I have worked with Caroline a year ago, this time we have a different formula – couple photos.
As a location we choose a park on the river shore. The weather is not friendly, a little rain is falling avery 15 minutes, I have to carefuly hide the lens under umbrella. We shoot in a many different places, over the water, against the green, on the bench. Finally, we go nearby to the closed beer garden and use its old walls as a background.
During such weather conditions the light quickly disappears, it gets dark and we have to go home.
---
For the second part of our short holidays we go to Munich to our friends.
This time we spend more time with the hosts, we go for walks, we ride bikes. The alpine paths have to wait for their turn, we will go to the mountains again in a few months.
As a result, I have more time for shooting.
During my stay in Munich the first model, which posed for me is Annika. She is very much involved in posing, which makes our cooperation great. We get a little bothered by the weather, small rain comes from time to time. But we are in the park over beautiful Isar, there is golden hour, plenty of green, peaceful water.
Under such circumstances shooting is the essence of pleasure. 
---
Joanna, 2017-08-24, photography in studio
It's been a long time since the last meeting with Joanna.
It's time to fix it. We have had two sessions so far, one on the beach and one in the studio. I was very pleased with both. Great shots were made at that time.
This time we work in the studio again. We meet in the city, then we go to the studio. Joanna has a great makeup and a lot of cool stylizations. I also have some, so there is plenty to choose from.
Shooting goes very smoothly, we already know each other and this helps.
One stylization after another, we soon are both tired and are short with ideas.
Finally, we are going to see the location of the future session. Now, we choose the best shots, do the postprocessing and they are ready to watch.
---
Anna, 2017-07-27, bridge photography
Another session on the bridge, this time with Anna, with whom I had previously worked in studio.
This time also comes the bad  weather but again we succeeded to finish the shoot before the rain.
In addition to the pictures on the bridge we also use stone stairs leading to the railway embankment and colorful graffiti under the bridge.
Then the sun goes down and it gets too dark, even for my fast lenses. We pack stylizations and equipment and return to civilization.
---
Monika P, 2017-07-25, bridge photography
Monika comes to Warsaw which is a great opportunity to meet on a photo session.
We had planned to shoot on a wild beach on the Vistula, but because of the heavy rainfall there is high water and some of the beaches are flooded. Weather is bad, storm is coming to Warsaw, we do not know whether we will finish shooting before rain.
We choose the old railway bridge on the Kanał Żerański.
I've been there several times, I know the place and its features. We work quickly and efficiently.
---
This is the end of my stay in Masuria.
Today I go to Iława and meet Amanda. We do street fashion. Today I also work with another photographer, Agnieszka. Each of us has different approach to photography, which is good – we complement each other.
Amanda is perfectly prepared for the session and she poses the way I like. The sun is already low, so it does not disturb us. We find a shadowed place with a great murral and this is where we start shooting. Then we visit some other locations, shoot on large stairs, they form a nice background.
The sun is gone, we have the last rays of light. We find a lonly bench under some old trees, here Amanda poses for portraits.
That was a short session, but very intense, we have some really nice shots.
---
Karolina is one of the models who responded to my invitation.
I arrive in her town at 18:00, when she finishes her work.
We meet at 18:05 at car park. Karolina is ready for action. She has some stylings ready and perfect make-up. We start talking and it turns out, tha she already has some experience in modeling. Dopiero teraz dowiaduję się, że ma już duże doświadczenie w modelingu, she was on several contracts, including Japan and China. When we start shooting I immediately recognize her professionalism.
Another advantage of Karolina is a great knowledge of the area in terms of photography. We are working on a lake in reeds, in an old abandoned house, in a field full of unusual, colorful flowers..
This time I have a second photographer during the session, Agnieszka. It's fun to work together. We both use the same system, so in the course of our work we change the lenses from time to time.
With such assisting and experienced model, we soon have a lot of great shots.
---
This year I'm spending my short vacations in the Masurian area near Iława in a beatiful house on a lake shore.
Before my stay I' send messages to some models from this region. Renia answers quickly and we agree for the evening meeting.
We both come in time to the meeting place. After a short talk we go to our cars and drive to the nearby lake.
Renia has an angel costume, we start from that. Then we find some old boats, they form an interesting background so we have a second part of our session there.
At the end, when the sun is really low, we shoot portraits. I have some stylings in my car and we use them. We have great light and make use of it until we are out of new ideas. Sun also ends its working day. It's time to go home. Thanks Renia for this spontaneous session, I hope we'll meet again some day.
---
It is not easy to invite Minerva for the session, even though they are vacations.
This time we start in an unusual way, we go to the beer garden and discuss our plans for the near future. During the conversations, a rainstorm passes, thankfully we are sitting under a big umbrella. When it's over, we finish our drinks and go.
Few hours earlier there was a thunderstorm and some trees were fallen, it was difficult to break through the Vistula scrub, but somehow we managed. After this effort, on the other side of the grove a quiet lake with green water is waiting for us . The sun just sets behind the trees, so we can start the shoot right now.
We have only 30-40 minutes of good light, then it gets too dark. But that's enough, we quickly finish the shoot and leave this beautiful place.
---
This my first session with Ania.
We meet in the Oldtown. I have some locations there, where I like to shoot. We have June, the longest days, golden hour is starting quite late. This time there were in fact two hours – we met at 19:00 and finished at 21:00, at the sunset. 
Except for Oldtown we also visit and old Citadel, there is an old wall and magical light there.
For the last twenty minutes we have to fight mosquitoes. But it is fair, they attack both the model and the photographer. In the end it gets too dark, even at ISO 400, so we finally finish the shoot and we go to the tram stop. Ania enters the tram and I take the city bike Veturilo and go home.
Very successful day, the summer has begun, I hope there will be more such days.
---
Monika P, 2017-06-17, photography in studio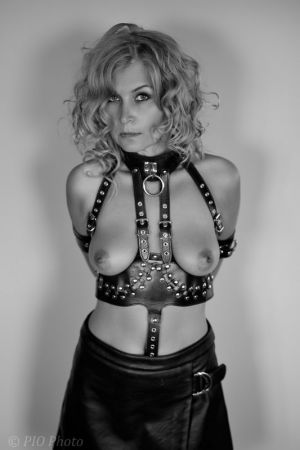 We are going to visit family in a small village near Lublin.
Before leaving I send a message to several models from Lublin that I will be for four days in the area. One of them enthusiastically answers that she would like to meet me at the shoot. So I meet Monika.
It turns out, that she is well known in our photography community. We just did not hace the opportunity to meet before.
We quickly set the date and time of the meeting. I'm going to the place as usual with slight uncertainty about what will happen there. Monika has a lot of positive feedback on Maxmodels portal, so I'm optimistic. And I'm not disappointed. Despite the day filled with duties, Monika greets me with a beautiful smile and we start shooting in a moment.
You immediately notice the professionalism of Monica. She knows where good light will be. She sets herself up as needed. And we understand each other without words, we work as pro. We are shooting fast, everything goes well. We work in a room, although there is a bright day, but without additional lighting, it's barely enough to work at ISO 200. Sometimes I snap the same shot 2-3 times, I'm afraid of blurry photos. But it is not so bad, they look good on the computer screen.
It was a very intense and inspirational one and a half hours, I hope someday I will be able to repeat it, maybe this time in my area?
---
Kornelia, 2017-06-01, photography in studio
After a long break I manage to meet Kornelia again.
This is another spontaneous session, we actually meet to talk, but then it turns out we both like to take pictures. Fortunately, Kornelia has some new stylizations, so we can try them out.
It is quite late, not much light, but we manage to shoot. Inside we use the lamp but at the balcony there is enough light to shoot without additional lamp.
At the end we go to the stairs where there is a whole wall made of glass, it creates a beautiful, delicate light, especially at sunset.
---
Fotogenerator, 2017-04-23, photography in studio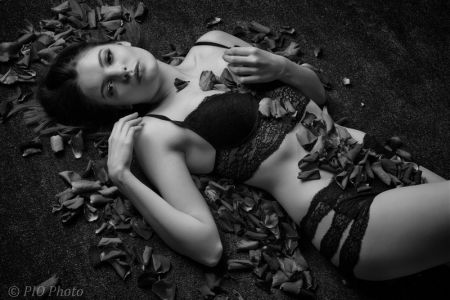 Fotogenerator is a photo event taking place in Flash Studio.
Models, make-up artists, hairdressers, stylists, photographers come to the studio and work together to create nice pictures. Then they share them with each other and use for promotion. There are about ten models, they  come in several different styles so there is plenty of shooting. I wasn't able to capture every scene.
The event started at 18:00, but at this time only hairdressers, make-up artists and models worked. Photographers come later, at 7pm at the earliest, but serious shooting starts around 8pm. Then we act spontaneously – when the model is ready, we grab her on one of the plans and take pictures. Then next and next …
And so until midnight and even a little longer. At the end it gives you a feeling of fatigue and you still have to pack up and safely return home. Everything works fine. My two hats, which I sometimes use as attributes for the session, are left in the studio, but I receive them a few days later. In conclusion – very nice party, I think I will repeat it some day.
In this edition I have been shooting the following models:
Aga Gusior, Anna Daszkiewicz, Joanna Wojtaszewska, Juliana Fylypczuk, Justyna Lewicka-Szczęsna, Karla Sobocińska, Mariola Patalon, Marta Turczyńska, Patrycja Pisarek, Wiktoria Gajewicz.
All shots from this event are in a single gallery.
---
Zagroda Ojrzanów, stables and dining room
Second Sunday session, KaBoom is posing. I know her already from some previous photography sessions.
We start in a small building, which I call stables, because there were some elements of harness stored there. It's very cold. We are in the closed building, it does not have any heating and almost no windows, so the sun does not warm it up as well. We have two very short attempts, between them KaBoom is warming up in her jacket, then we must break, it's too cold for the model.
For the second part of the session we move to the dining room. It's very warm here and there is huge amount of light that comes through the glass walls. Again some comfort for the model and for the photographer.
We must wait for another group to finish their work. There is only one spot free from the direct sun rays. Everybody is already tired and satisfied with shooting, both models and photographers. But we still manage to take some nice last shots.
---
Zagroda Ojrzanów, corridor and orangery
First session on Monday. Just after breakfast. Everyone is relaxed, time to start our photography.
We start in an old building, in a corridor. On the background we have a doorway to the bathroom. First some shots while the model is standing, then we make use of a small bench, Kasia is posing on it.
Second part of the session was in the glass annexe, kind of an orangery. It's filled with light and warmth, which means a lot of comfort. From the very morning it was a makeup room. When sessions started it became empty and we could shoot there. Now it's ours.
Third part of the session with beautiful Kasia was outdoors and was very short. I admire Kasia cold resistance, it was really cold outside, it snowed for a while and she posed totally naked. But it was worth the effort, her hair were a perfect match to the dry reed that was growing on the edge of a small pond.
---
Zagroda Ojrzanów, glasshouse
Second afternoon session in our photography meeting.
This time we are shooting in a large glasshouse. It's not for plants, but for protecting a dance platform from cold and rain. A lot of empty space filled only with light. Our model is Kamila featuring an unusual, even exotic beauty. Kamila is a surprise – she came last minute as a substitute for another model who could not take part in the event.
We have plenty of room, all space is surrounded with glass walls. Sometimes we were a little bothered by the sun, which tried to shine between the clouds and created sharp spots of light on the model's body. In such cases we had to wait, or try to use it to our advantage.
We are shooting on a stylish couch, on a regular couch, on a low sill, against a window background. This last setting perfectly exposes the wonderful slimness of the model. She knows that and takes the right pose to make it even better.
---
Klaudia K, 2017-04-22 
Zagroda Ojrzanów, bathroom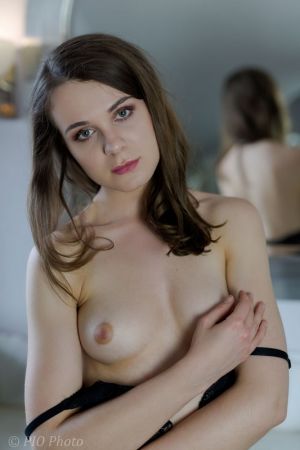 First afternoon session.
We are working in a bathroom equipped with a quite unusual bathtub. There is also a stylish mirror and some nice bathroom accessories.
Klaudia is feeling comfortably and creates a wonderful mood. She poses perfectly both in the lace blouse and without it.
Very good photography session
---
Agnieszka P and Patrycja I, 2017-04-22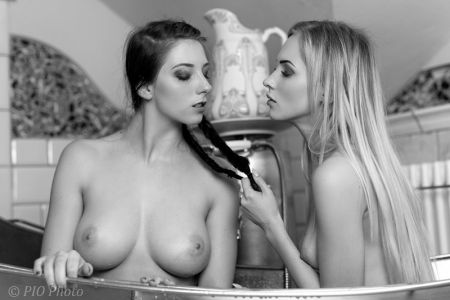 Zagroda Ojrzanów, appartment and bathroom
We have finished the previous session in an apartment a little earlier, the group working in the bathroom did the same. Then we joined forces and shoot both models posing together. This way we had Agnieszka and Patrycja in a beautiful duo.
We also had two rooms, an apartment and a bathroom. 
The girls cooperated very well, both in bed and in the bathtub, where a milk bath was waiting for them. I think they liked this duo posing, they played their roles perfectly. It is a pity that such photo duos of two beautiful women are so rare.
---
Zagroda Ojrzanów, photography in appartment
The second morning photography session.
We are shooting in an apartment. We have a large bed under the roof window, a stylish couch and a blue dressing table with a mirror. Agnieszka wears a blue transparent dress that creates a nice color matching with the dressing table.
It is clear that Agnieszka is a very experienced model aware of her body. Working with her is a pure pleasure, we communicate without words. 
Agnieszka has such a type of beauty that I would like to photograph all the time. And I'm sure she knows about it, because it shows in her posing.
---
Zagroda Ojrzanów, house of Kurpie
This is my first photo event this year.
It was very successful, however the weather was not helping.  It was very cold in the morning, 1 or 2 degrees Celcius. On Sunday we even had some snow. Sun was also unpredictable – sometimes it was hiding behind the clouds, in this case it gave great light, sometimes it was shining directly on the model, even indoors, creating light spots on the model's body.
That wasn't good and we had to wait or move to another space. 
We were working indoors, it was way to cold for models to work outdoors. It was possible to leave the house only for a few minutes. Photography can be very demanding for models.
First session on the Saturday morning is in the antique house of Kurpie.
Our model is gorgeous Agnieszka. Although the environment in which we work does not give many opportunities, Agnieszka perfectly matches the styling and knows how to pose in it. White is dominating, it fits very well with the subtle beauty of Agnieszka and with her dress.
---
Anna, 2017-03-26, photography in studio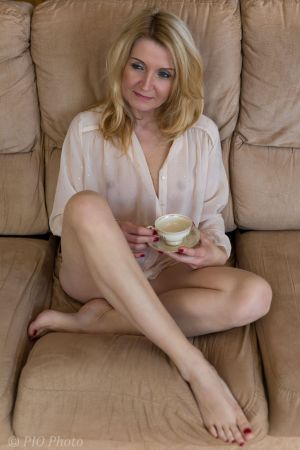 We meet for the first time. 
It's Sunday morning. After the first glance at Anna I'm sure that this session will be a success. And I'm right. 
We have quite limited time, because Anna has planned another session for this afternoon. So we start without delay. We both love details, so our work is going on very smoothly. We start with Anna's stylings, then we use some from my collection.
Yes, I have a bag full of stylings. Models love to try new clothes. 
Anna is very open minded and perfectly plays many different roles. She also has many interesting ideas, that we use during session. Our photography meeting is very intense.
I hope to meet you again Anna, this time maybe outdoor. We are waiting for the spring to come.
---
Blanka, 2017-02-26, photography in studio
We meet in Kapsel Studio.
It's late afternoon (earlier studio was booked by someone else), but we still have some daylight – we shoot until it's too dark. Then we turn on the lamps and continue in "studio mode".
Blanka is plus size model, she is very much involved in photography.
We have been working before with some nice results. Hope to make it also today
---
Kornelia, 2017-02-12, photography in studio
In the new year I couldn't miss Kornelia. She is important for my photography.
We had a very short session, but we were lucky to capture some intriguing shots.
I can always rely on Kornelia, especially with portraits.
---
Minerwa, 2017-02-04, photography in studio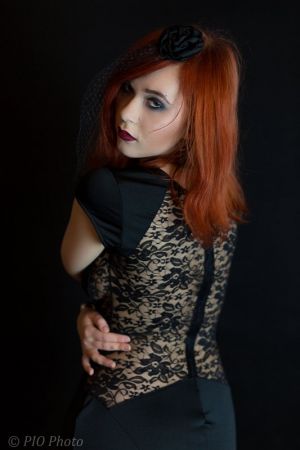 First planned session this year, at last!
Minerwa has some free time and she decided to stand before my lense. 
In addition to the excellent mood and a great desire to take pictures she brought with her a beautiful new-year dress. She looks great in it, I wish I had the opportunity to see her dancing, but …
The dress is black, so we shoot on a black background. The result is gloomy, just as wanted. Perfect makup directs all the viewer's attention to the model's face, which in case of Minerwa is also something we want.
Then we changed the styling and added a rose.
---
New year 2017 is coming. We'll see what will it bring us.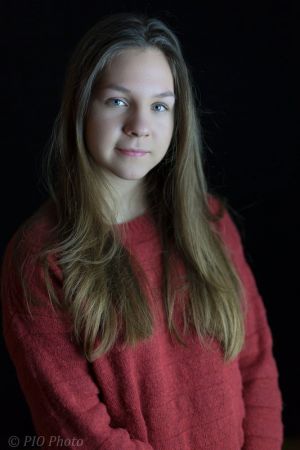 Will I start this photo year with someone new, or with someone I know already? There are some plans, but nothing is decided yet.
Marysia, 2017-01-28, photography in studio
Surprise! Without any planning we did a mini session with Marysia, just on a family meeting. Just a few shots, no makup, I still didn't fully recover after two weeks cold.
So I consider the photo year 2017 as opened!
---