2019 – next year, in which photography will be my focus.
---
Marzka, 2019-12-29, private Santa
I really liked Santa and I intend to keep her for longer…
Santa doesn't mind. I think she even likes this game.
It is a pity that Santa's time ends so quickly. I will have to wait almost the whole year for the next opportunity of such a nice meeting.
I'll have to make it somehow.
Maybe we will take some other pictures while waiting for next Christmas? My Santa likes them, so it won't be difficult to convince her to cooperate.
Nobody was hurt when taking these pictures, just the opposite. Photography sometimes differs from real life.
---
Like every year, Santa visits me.
I guess you are visited too, but mine is so special … only mine.
This is the best thing that happens to me. Of course, there are "normal" gifts, but in addition to them it is someone special – She. 
She is with me every day, not only during holidays. Always smiling, ready for challenges. She supports me every second of my life. 
She's the best friend who always understands me. We do everything together. Romantic walks, long bike trips, skiing in Austria, cross-country skiing in the Kłodzko Valley, Tatra hiking, shopping in Lidl, wonderful holidays in the Canaries. We fall asleep together and wake up.
I want this to last forever.
---
Marzka, 2019-11-24, apartament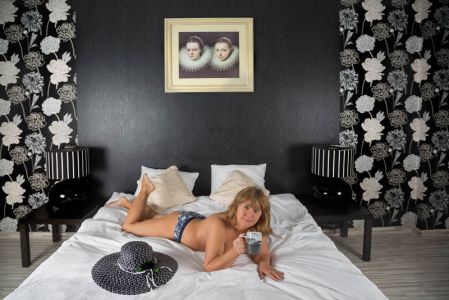 We rented the apartment for 24 hours, so there is still the evening and morning before us.
I didn't disassemble the lights yesterday, so today, after breakfast, a session with Marzka.
We are taking completely different shots than with Natalia – photography can be complicated. We work quite briefly, because we are still planning to walk around the city a bit, and then return home.
After the session, we go to the old town, watch a shopping center decorated in an old brewery, and of course we buy sweet delicacies for which Poznań is famous.
The weather is nice, so on the way we visit a turquoise lake near Konin, I wanted to take some photos from the drone. Unfortunately, before we arrive, the weather breaks down and the photos come out very poorly.
Maybe we'll have more luck next time.
---
Natalia, 2019-11-23, apartament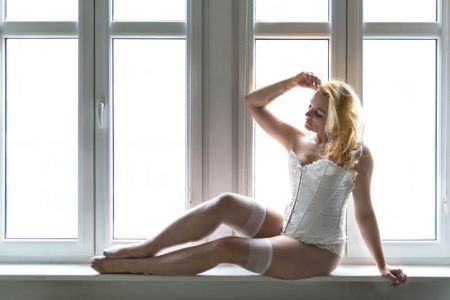 I met Natalia a few months earlier in May this year..
Then she came to Warsaw for a session in the apartment. She had some free time and wrote to me. We met and we took great shots. I decided to renew this promising photographic acquaintance.
Then I write a message to Natalia asking if she has time and wants to take photos with me as a photographer, this time at her place in Poznań. Natalia is a very busy person, but I'm lucky, she has a free weekend in November. In addition, there is a stylish apartment inspired by Baudlaire's book "Flowers of Evil".
We leave on Saturday morning, we arrive at 11:00, soon Natalia comes. Tea first, we talk a little, but soon we have to get to work. At the beginning, white stylization with a beautiful corset. Natalia sits down on the window sill and we take some high-key shots. Then various black stylizations on the background of the flowers of evil.
We also take a few shots in the bathroom and on the bed. At 16:00 we are both tired, time to relax. Marzka joins us and we all go to the Old Town for a well deserved dinner.
It was a great day. I love photography.
---
We met in June this year during a short stay in Sopot.
Małgosia visited us and we took a lot of nice photos in the apartment, on the beach and in Sopot. We tried to meet later in August or September, but we could not find a convinient date.
But you can't give up so easily. This time we manage to choose a weekend in the middle of November, when we both have time for photography.
Małgosia arrives on Saturday at noon, a moment of rest and we start immediately. First, some photos against the background of a bookshelf. Then a planned and prepared session in milk. After the session, we sit until late at night, discuss photos and choose the best.
On Sunday, after breakfast, we continue. There is a beautiful sun, so this time we are shooting in natural light on a plush sofa.
---
Marzka, 2019-11-09, dolinki krakowskie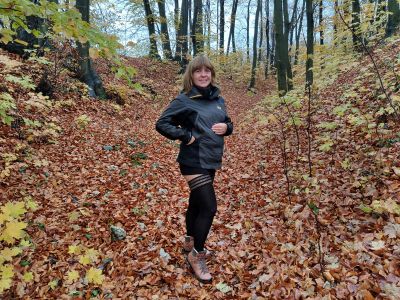 It's beautiful Polish golden autumn. Forests and fields are covered with a carpet of colorful leaves. Ahead of us is the November long weekend, three days worth spending outside the city.
We book a room in a cozy hotel near Krakow, located between the area of the famous Krakow valleys and the Ojców National Park.
On the first day we go to Będkowice. There is some fog, it is not raining. We leave the car, change shoes and set off towards the valley of the Będkowska Valley. First, we visit viewpoints towering over the valley. They are the culmination of long and interesting climbing routes leading from the bottom of the valley. The longest of them has three lifts and leads through the wall of the highest rock in Jura, Sokolica. After passing all five we go down the gorge to the valley. We pass its most beautiful fragment and return to the plain with a forest road passing through a small rock gate called the Devil's Gate. There is no one in the forest but us, Marzka persuades me to take pictures, boldly poses on the colorful leaf carpets.
The second day is completely filled with rain, but this does not discourage us. We put on gore-tex jackets and pants, spread umbrellas and set off into the field for the whole day. The choice falls on Ojców National Park. It's not allowed to fly a drone there and it rains all the time, so it's actually great. We visit the famous Łokietka Cave and the amazing rock gate – Cracow Gate.
The third day greets us with the sun. We pack, leave the hospitable hotel and go under the Grodzisko rocks. I'm taking a drone and do some aerial shots. Ah, those colors! Then we go again to Będkowice, but this time we delve into the neighboring Kobylańska Valley. We go through it all, in the lower part we enter a large rock massif and again we do some aerial photography.
Soon the sun is hiding behind the forest, it's time to go back home.
---
Cornelia visits us.
It's been a while since we last saw each other.
We sit in the kitchen. I pour the soup cooked by M. Vegetable, without potatoes, with coconut milk. We like it very much, Cornelia likes it too.
Then we eat bigos, which Cornelia brought for us from home. It's such an exchange of kindness or emotions. We make tea and sit on the sofa in the living room. We're talking. Stories flow and … well – emotions.
Time for some photography.
Cornelia always has some nice clothes with her, so I take out lamps and softboxes and she dresses up and we start a spontaneous session. It's nice to have a studio at home. When the opportunity arises, it will take less than a quarter of an hour to set up the lamps and prepare the background.
We've had a lot of these sessions, we know our reactions, we communicate with each other's gaze. After one hour of shooting, we have enough material and we finish.
---
Marzka, 2019-09-25, plaża Boadella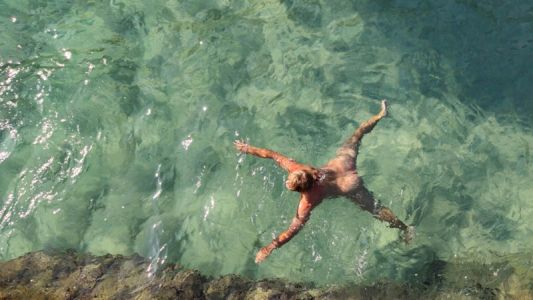 Finally we have our holidays.
This time mainland Spain, our favorite wild coast of the Costa Brava.
We live in the beautiful seaside town of Lloret de Mar. From the hotel we have a few hundred meters walk through the beautiful old town to the city beach. But we only go there for evening walks by the moon. We spend days on sunbathing on the more distant Boadella beach. This is a tiny beach, actually outside the city, sandwiched between rocks covered with wavy sea. A beautiful, colorful cliff dominates the beach. There is a bar, shower, lifeguard on the beach. And most importantly – after swimming in the sea you do not have to sit in wet rags 😉 .
After arriving at the beach, we spread our colorful pareo, throw off our clothes, apply UV 50 cream and run into the water. We put on fins, pull inflatable buoys on the strings and swim. Every day 5-6 km. Wwe could come here by sea, if someone would bring our phones for us. Usually we start with swimming to the yellow buoys that separate the waterway for ships, then we swim to the Gardens of Saint Clotilde. We are coming back and finally round the small island. Then rest.
At lunchtime we eat a box of sweet and juicy figs, which we buy on the way. In the afternoon sometimes we play with photography.
At the end of the day, when the sun is already low, my M sometimes looks at me defiantly and then I know that we will still be taking pictures. It's such a wonderful dessert to end a beautiful day.
---
Rządza is the name of the river where we take pictures. It means Desire. Good stimulation for photography.
I have already worked with Ania several times in the studio, We had also a sensual session in milk.
Today we work outdoor. We meet at the Biedronka store in Radzymin. From there we take one car to Rządza river.
We are alone. Ania wears the first stylization.
We both go into the water. Yes! The photographer must also get his feet wet. This time the water reaches only to the knees, but I already had sessions where I was with the camera in the water up to the neck. This time is easier, but it's already September, the water is a bit cool. Well, but there is nothing to complain about, I have a beautiful model in front of my lens. She knows very well how to pose .
Light favors us. The sun is just setting, we have a golden hour right now.
Trees growing on both sides give an additional pleasant shade. The second part of the session we do in a different place, we go up the river to a place where both banks are connected by an old barkless trunk.
The sun has already set, it's a bit chilly. We are warmed by the enthusiasm of what we do. Passion. Finally it gets too dark for shooting. We leave the water, go to the car, turn on the heating, warm air, which drains us. Time to go home.
---
Marzka, 2019-08-18, Swaderki
For several years, in mid-August, we go to the beautiful Swaderki lake for a few days.
We lead a very simple and happy life there.
We sleep in the car, we wake up at 9:00 am, we go swimming. Then breakfast – a sandwich with fresh smoked fish. After breakfast we go to rent a kayak and … disappear for the whole day. The lake is quite large, has a rich shoreline, there is something to explore. Usually we canoe for 10-12 km. This is not much considering that we take a lot of breaks for eating, photographing and other holiday activities.
This time we have my newest toy – a drone. There are lots of new emotions. Flying over water with such equipment is a challenge. You can never be sure if you can get back to dry land, I did it this time, but once or twice I got a little nervous. Drone photography means lots of emotions.
On the other hand, shots from the drone are amazing. They let you show the world from a completely new perspective. And yet when there is a beautiful model in the frame, the photographer's happiness just rocks.
---
Fotogenerator, 2019-08-04, Jacks Moto Garage
Next Fotogenerator, issue 11.
This time a motorcycle mood, Jacks Moto Garage.
A dozen of new models, lots of unique bikes.
As always, the perfect organization of Fotogenerator.
I am coming with Agnieszka to the workshop. The team is already waiting for us. Everything is ready – models, makeup, fascinating stylizations. This is photography made easy.
And motorbikes. We can photograph both indoors and outdoors. Models are constantly changing styles, it is difficult to keep up with it. Fortunately, the organizers are preparing a cheat sheet – each model is photographed in every stylization and described.
This is an invaluable help when tagging photos. The hardest part is behind us, now only photo selection and processing – easy 😉
---
Minerva is on vacation, it is finally time to meet, talk and take some pictures.
It is Friday afternoon and I feel the weekend already. Minerva is coming to me. She changes into the outfit for the session and we go to the park.
I'm taking the camera and the drone.
We start the warm-up with classic portraits. Minerva had quite a long break in posing and she needs it. 
Then the drone takes off and we do some aerial photography. For Minerva, it's a new experience. Before taking off the drone, we talk for a moment about what shots we will take.
When the drone is in the air, there is not much time to communicate with the model, it is worth talking about the details in advance.
---
Mariola, 2019-07-16, Rejentówka, dron
In addition to taking photos with traditional DSLR, I also take some shots from the drone.
It's a completely different photography.
The drone is not just another lens, it is a new look, a new concept, completely different frames.
Drone shooting gives you quite new possibilities, you can shoot from any angle, unless you are disturbed by trees or buildings.
There are also limitations – flight time, or shooting time. In addition, during a drone session, contact with the model is limited. It is worth setting the entire session plan and possibly some signal system in advance.
But the final effect fully compensates for these minor inconveniences. A beautiful model lying on a meadow filled with flowers, which we can look at from the bird's eye – what can be compared with it!
---
Mariola, 2019-07-16, Rejentówka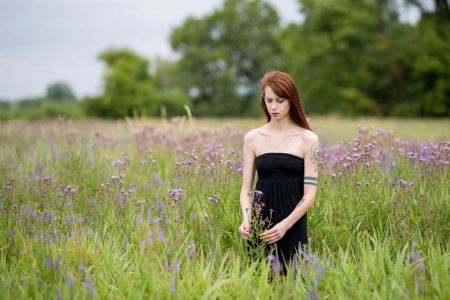 We know each other very well with Mariola.
This time we work in the Warsaw area.
Very few words, but a lot of "shots".
We are going to Radzymin near the river with a nice name – Rządza (Desire).
Well, that's how it is.
Mariola knows me well. She poses naturally, relaxed. We know each other well, it pays off. There is mutual trust. We have cool shots. 
It's great to work with someone you trust. I watch Mariola carefully, as I see that she is cold, I propose a break for warming. She must be saved from spiders. And feel safe.
This is the key to the success of the session. That's why we have so many cool pictures.
Mariola renders herself totally devoted to posing, even with goose bumps (!). 
Success!
---
Saturday.
We wake up slowly, eat breakfast. Then we go to Rewa, to the famous headland. Yesterday we were there on our bikes, we've made almost 60 km. Today, we want to have some time for sunbathing, so we go by car.
We are coming back to Sopot at 16:00, because at 17:00 I'm meeting Małgosia for a shoot.
Our session has its own short history. Recently Małgosia wrote to me about the shooting. We tried to make an appointment for July in Warsaw. But it turned out that at the beginning of June we will be in Sopot, so we can meet earlier.
Małgosia arrives perfectly on time. Who travels by bike is not late. I am also ready and relaxed.
First we have some conversation. Then my Marzka goes shopping in the city and we start creating enchanted images. Małgosia is perfectly prepared. Not only in terms of styling. It has a lot of interesting ideas and inspiration that we consistently implement in our apartment.
Then we go to the beach. And here my new, fascinating model pulls the ace of spades, so to say. I run a drone and she … she starts her show. I have the impression that he knows more about drone photography than I do. Yes. Here's who I work with. I will never forget this lesson. We catch wonderful pictures on the beach.
But this is not the end. Małgosia leads me to the Sopot park. We reach the place with the imitation of the ancient colonnade. First Małgosia dances between the columns and the setting sun covers her body with magic golden light. Then she lays in the center of the colonnade, as on the sacrificial altar. Then I start the drone again and take some pictures from above.
It's good that I hurried up because the seagulls came flying in and attacked the drone. Apparently my airship breached their territory. My mistake. Time to land and finish shooting for today.
But this is not the end of the day. We return to the apartment, change clothes and go to the beach for a fisherman's soup and beer – a beautiful end to the day.
Thanks Małgosia for this wonderful afternoon filled with photography, good food and excellent company.
---
The time has come for a short rest by the sea.
We are coming to Sopot, we bring bicycles with us. This place offers quite a good network of bicycle paths, we use them every day: Gdańsk, Rewa, klif Orłowo. But two evenings are reserved for photography.
Before leaving, I write to Renia, whom I met a few years ago in Masuria, we had a very successful session at sunset. Renia lives in Gdańsk. We quickly set the details and meet on the beach.
This time the session consists of two parts: photos taken with the camera and photos from the drone.
Using a drone in model photography changes everything. You have to plan the shots completely differently. You have to watch out for different things that can interfere. First of all, you must obey the laws of air traffic, it is the basis of security.
During the session, when Renia patiently lay next to the waves that tried to reach her bare feet, someone approached her and asked if she had not fainted by accident. He was unaware of the drone hanging a few dozen meters above, which recorded everything. To sum up – the Baltic Sea seen from above looks completely different than from the ground level.
These colors!
---
Ola O, Ola P, 2019-05-26, willa Allarta
W trakcie fotograficznych spotkań z kilkoma modelkami czasem udaje się zrealizować plan, na którym przed obiektywem stają dwie piękne kobiety.
To dużo lepsze niż kumulacja w Lotto.
Tym razem pozują dwie Ole. Nie wiem jak do tego dochodzi, ale zaczynają się niesamowite emocje. Emocje pomiędzy dwoma cudownymi kobietami.
Zresztą zobaczcie sami.
Na pewno atmosfera spotkania fotograficznego w starej willi w Łodzi sprzyja takim emocjom. Ale to co działo się na balkonie, jakby wymknęło się wszystkim spod kontroli.
W takiej sytuacji fotograf, który chce zrobić dobre zdjęcia, musi mieć trochę szczęścia – właściwe ustawienia w aparacie, no i trzeba działać szybko. Te magiczne chwile są niezwykle ulotne.
---
Anna, 2019-05-26, willa Allarta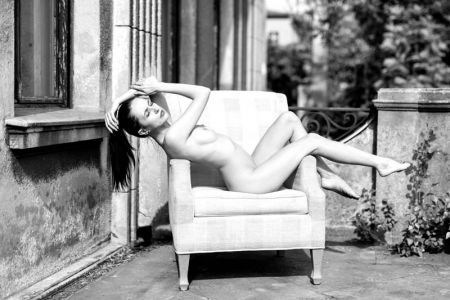 Finally a session with Anna.
At this time everyone is already a bit tired, both models and photographers. But the villa Allarta has some  secret locations, where you can show the model in a different way.
We go there with Anna and it was a good idea.
We start our photography in the attic. Then old and beautiful stairs.
At the end of the balcony, illuminated by the warm, afternoon sun. Anna stretches in her chair like a cat basking in the sun.
This is the end for today. Models put on their regular clothes, we collect equipment and get in the car.
Two hours later I'm back home.
---
Ola O, 2019-05-26, willa Allarta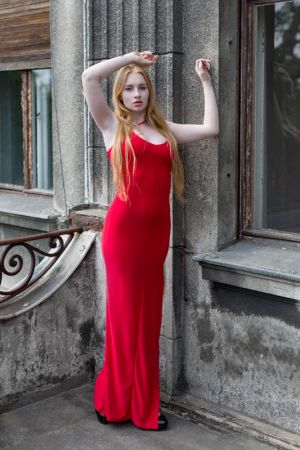 After the first two sessions, we take a break for lunch. Then we move to the second villa.
There, at the beginning … Ola poses for us . Yes, today we have two models with the same name.
With Ola we know each other for a while, we work smoothly.
Ola is a very experienced model, she doesn't  need any hints. We only set a plan, then everything goes fluently. I like how Ola sets up, how we create frames.
We start with a red dress. It's a classic theme. A woman in a red dress always attracts attention. It is a scientifically proven fact. And checked by thousands of men. Photography is not an exception here.
For part of the time allocated for this session, we manage to join forces with another team and organize a duo – both Ola's posing together.
I like this variations. When two beautiful women stand in front of the camera, the frame emanates with emotions. And so it happens this time.
---
Ola P, 2019-05-26, willa Grohmana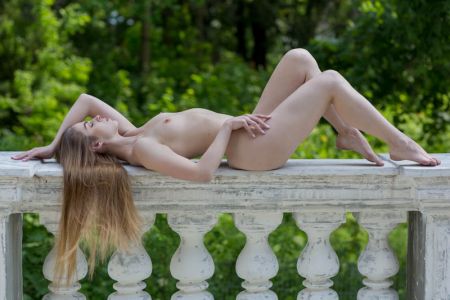 The second model that poses us today is Ola.
This is our first meeting, but I feel like we already knew each other well. When people who share the same passion meet, they usually make a good contact right away. And so it is this time.
We start from the attic with strange, round windows, through which a bright light comes from outside. Ola sits on the windowsill next to the window. The light wonderfully carves her slender body. I have the impression that Ola looks through the viewfinder of my camera with a third (magical) eye. How would she know what to do so, that the shadows would perfectly emphasize her shapes.
In this situation, I just have to take care to properly register her show, compensate for the variable light, focus on the right spot.
Then we go outside. On the way in one of the rooms I grab an empty frame of a small window. In a moment we use it as an session gadget – it was excellent idea.
Finally we go to the terrace. There is a lot of light and beautiful greenery in the background. We take completely different photos there.
---
Martyna, 2019-05-26, willa Grohmana
I am arriving at the next photo even this year. We meet in Lodz, in the antique villa of Grohman.
The villa is historic, formally. In fact, it is a construction site, with all its consequences. There is no furniture, everything is covered with cement dust, dirt is ubiquitous. It is not easy to work in such conditions, both for models and photographers.
The first session with an old (though very young) friend. Martyna is posing. We have worked together many times, we perfectly understand each other and communicate well. Martyna knows what to do,we create a lot of nice pictures very quickly.
We start inside, in the background there is old brick.
Then we contunue our photography journey at the terrace bathed in the sun.
---
Natalia, 2019-05-11, apartament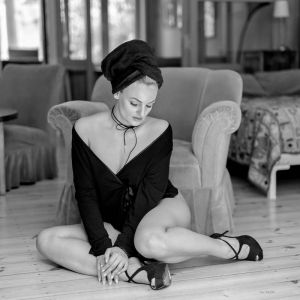 I get a message from Natalia that she will be in Warsaw and would like to stand before my lense.
I look into her portfolio, I see a beautiful woman who has a photographic passion similar to mine. We work on opposite sides of the lens, so we complement each other perfectly .
There is nothing to think about, we organize a meeting. The weeks of waiting pass very quickly.
Finally the day comes. Everything is going well. The sun is today a little moody, sometimes it hides behind the clouds – then we go out to the terrace, sometimes it shines strongly – then we hide in the deep shadow of a friendly apartment.
Natalia knows well what she wants. It is perfectly prepared for the session, both in terms of styling (oh!) and emotions that are beautifully presented, she is playing roles, I like it so much.
Session is quite short, only 90 minutes, but very intense when it comes to photographic sensations.
Natalio, I'm waiting for an outdoor session with you.
---
This May weekend we spend on Jura.
We live in the Ostaniec hotel (called shitty), but it's pretty cool. Clean room, good breakfast in the morning. After the meal, we set out for the whole day. In the afternoon we come back, we eat a good home dinner at the Jurajski inn, we drink beer to refill the liquids.
Then we go to the room, a long shower, a review of photos and videos (yes!) from the current day. It's our business what happens then, .
Resting, battery charging (mainly drone), tomorrow is another intense day.
At the end of the stay we visit a shop with climbing equipment and clothes. We meet the owner, Marcin, there are many common climbing and life-related themes. I'm buying a super Gore (Milo) jacket.
Life is Beautiful.
With M.
---
Ania, 2019-04-29, most na Kanale Żerańskim, widok z drona
At the end of the session I run my new toy, drone.
I only flew it several times, never over the water.
Before the flight, I set up a signal system with Ania. When I'm driving the drone, I have to focus on this, I'm a pilot at the time, I'm driving an air vehicle, I'm responsible for safety. Must comply to air traffic law.
Fortunately, I fly in a place where it is safe and I'm not dangerous to anyone. I do not threaten my beautiful model.
The drone is always in a place where it is not a threat to it. But we still create amazing shots.
Shots from the air are beautiful! Drone photography is amazing.
I am very happy that I started that  topic. This is just the beginning.
The best shots are still ahead.
---
Ania, 2019-04-29, most na Kanale Żerańskim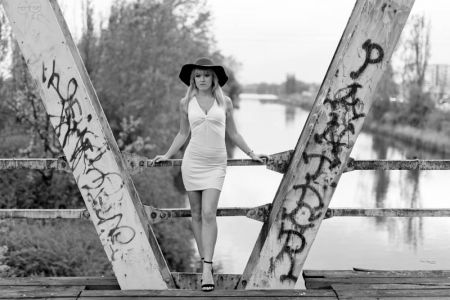 I met Ania only a few months ago, but we already had several sessions.
Until now, we only met in the studio, after all, it was winter. Now the time for outdoors has come.
We start with the famous bridge on the Żerań Canal.
Ania is coming for me, just like that. We're going to the spot, it's only a few minutes. Unfortunately, it is not empty on the bridge. That was the way it used to be, now it is not. People go out for a walk in the evening, actually right.
We start with classic photos with a bridge in the background. Then other shots.
Unfortunately, the bridge ends. Boards that cover it are already old. In a year or two, I dare not bring a model here and ask her to come on the bridge. As a session manager, I feel responsible for her.
You have to do a few sessions here soon, it will not be possible soon. Probably the landowner will put a fence here. I would do that.
---
Doris and Iza, 2019-04-07, Dworek Janowicki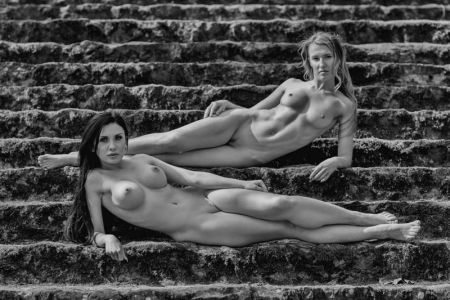 Today is my lucky day.
There is another duo, Doris and Iza are wonderfully posing together on the stairs.
Time is running out, you have to shoot quickly.
Only a few frames, but wow!
Old mossy stairs and two beautiful models.
---
Doris and Milena, 2019-04-07, Dworek Janowicki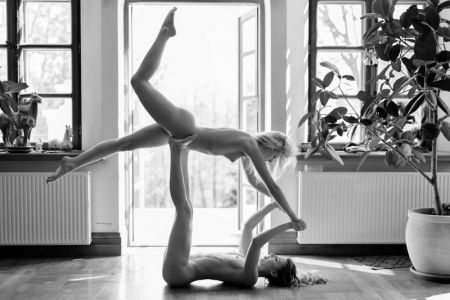 Another team with Milena model is walking through the room where Doris poses to us.
The ladies look at each other … and start the gymnastics show.
Fortunately, I manage to occupy a fairly good place, close to the axis of events. There is no time to change the settings of the camera, or to change the lens. You have to shoot as camera is set. Everything lasts only several dozens of seconds. I manage to register a few shots from this amazing show.
It's always like that – when several models appear before the lens, everything accelerates. You need to have good reflexes and act quickly.
The right moment is ephemeral, not only in photography.
---
Nika, 2019-04-07, Dworek Janowicki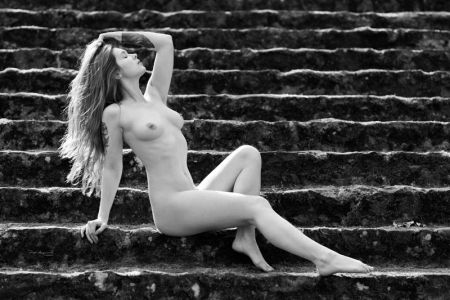 Nika aka Astathre.
The last model today. Last but not least.
Wonderful, full shapes of a real woman. Deep red hair burning in the setting sun. Brown eyes piercing the photographer. Pierced nipples and piercings in the mouth.
Working with Astathre is the quintessence of photography pleasure. A magical combination of innocence, experience and original beauty. Every photographer's dream. In addition, we have beautiful low sun light.
I'd rather work an hour or two later, but it's not possible. This is the last session today, the model is far from home, we have to finish soon.
We quickly run through places known to us – epic stairs, a pond, a bridge, a shadow cast by a large tree. All photos are wonderful. Oh Astathre, I would love to meet you again.
---
Milena, 2019-04-07, Dworek Janowicki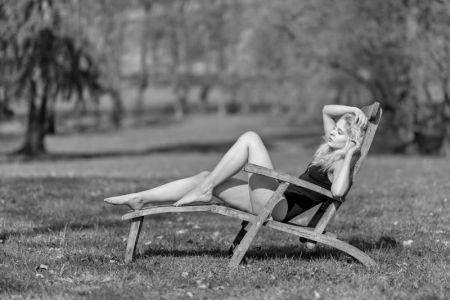 I met Milena earlier, this year, on a different photo shoot.
I'm glad we're meeting again. I was very pleased with the effects of the previous session.
It's warm, we work mainly outside.
This time everything goes smoothly as usual. Milena is a little sneezing. Well, I will have to face the challenge of reddened nose, I hope I'll manage to correct it in PhotoShop.
---
Iza, 2019-04-07, Dworek Janowicki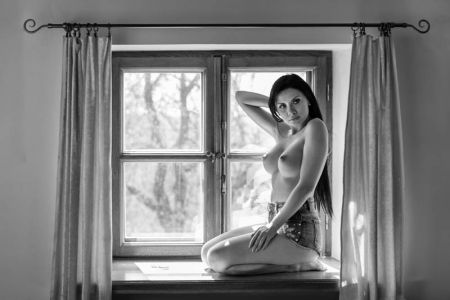 Today, the second one in front of my lens is Iza.
This is our first meeting. At the beginning I have the impression that Iza is a little shy, but then we all relax.
The first frames are made on a hanging chair, in a pink bathrobe. At the beginning, Iza wraps herself tightly, then the bathrobe slides off a little, revealing beautiful breasts. I see her smiling, so this is the part of a game. Good for me
The next stylization is sexy shorts and a transparent overcoat, which just gets lost somewhere very quickly.
There is a square window and lots of natural light. Let's go to another room. We have slightly different windows there and a beautiful bed.
Then we go outside to the famous steps. Iza poses also at the pond.
---
Doris, 2019-04-07, Dworek Janowicki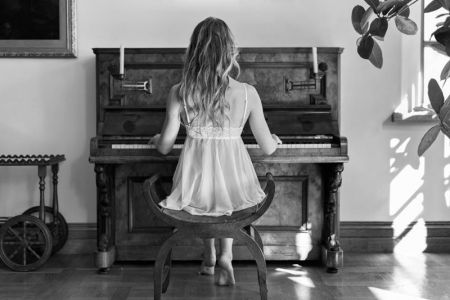 I'm going to the group shooting, this is the third one this year. Good tempo.
I was invited by a friend photographer. Although we use different (and incompatible) photographic systems, but we have very much in common and we are very compatible in the photography area. During the meeting we work together in one team and it is great.
That's why I frequently go to the photo events, to meet fascinating new (and old) models and photographers. In fact, it's a shame that during the all-day shooting you work in one team of photographers and only change the models.
It's boring!
I must arrange photo shoot at which I will work with one model all day long, but in different teams, with different photographers. That will be exciting!
Well, but it will be. Today … today we start with Doris.
It's a sports model. Athletic silhouette. Yoga as a bonus. Long curly blonde hair. Enthusiasm.
I do not need anything more. I just let my camera to it's job.
---
Today, Ania is visiting me.
We already had a session in January, but it's time to meet again.
Ania is always perfectly prepared, makeup, lots of colorful stylizations, and most importantly – a great attitude.
This is always the best recipe for good shots.
Photography as I see it is always about emotions.
---
I really like meeting and photographing new people with whom I have not worked yet. Michalina is standing in front of my lens today.
For her, this is a new experience. It's probably a bit exciting, like every "first time". I always try to be nice, but in such situations you have to try even harder.
We meet in the city and drive to my studio. The journey does not last long. Each of us talks a bit about himself, I like to get to know each other a bit before we start taking pictures. Then we talk about the session plan and about photography in general.
On the spot, we start with a glass of orange juice, then I turn on the lamps and we start shooting. For the first ten minutes, Michalina is a bit nervous. I understand it perfectly, it's a normal reaction to a new situation. Moments later, we both laugh all the time, which disturbs the photos a bit – we are already a band and we are working together on shots.
During the short break "for the cigarette" we take some shots on the balcony in natural light. Michalina's delicate, girlish beauty works perfectly here. I can not wait for the outdoor shots with this charming and beautiful woman, I am waiting for meadows full of spring flowers.
---
Kornelia returns from her vacations, I want to listen to her story, so we meet.
On this occasion, we do a short photo session.
This is the second session with Kornelia this year and yet we are only in March. I can not wait for the outdoor shots.
Kornelia was in the Far East, beautifully tanned and relaxed. She loves photography the same way as I do.
---
We are slowly approaching the end of this short and intense photo day.
Monica poses as the last one.
She doesn't show enthusiasm, maybe she is just as tired as we are. I'm taking a few shots, but quickly run out of ideas. There are no inspirations from the model's part either. So this is the end for today.
We didn't make it my lady but well, it happens sometimes. Photography is unpredictable.
I'm packing my equipment and wishing all a safe return.
Two hours later, I'm home. 
---
Paulina, 2019-02-23, Rzepiszew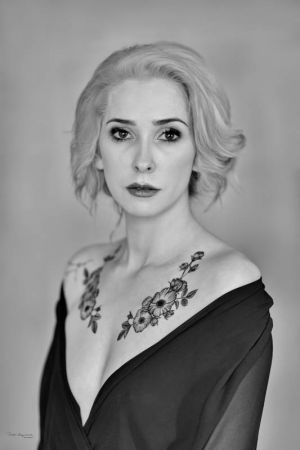 After the first two sessions we have a lunch break. It's time for some relax, needed both by models and photographers.
We sit down for a moment and have a talk about morning shooting. Soon the hosts of the manor serve a delicious dinner. Home made food, no catering.
Some people complain that after such meal you should not work anymore. Well, models are at work, but photographers can do what they want. Slowly all get up and form their teams again. We start the second round of this incredible photography.
Paulina is today our third model. She is very tall, slim blonde. She's a mature woman with a sad face. You can see that she is a very experienced model, she uses her assets perfectly.
Oh, I forgot to write that he also has beautiful tattoos.
We start with portraits. Then a leather armchair, a dressing table with a mirror. It is already the afternoon, less and less light, so we also try shooting by the window, on the windowsill and through the curtains.
Time to change the stylization. Paulina wears a transparent mini skirt, which wonderfully highlights her slim figure. He stands by the mirror again. Finaly a few shots in the manor entrance and this is the end of this session. 
---
An hour and a half passes quickly. We've done a lot of nice shots with Malwina. 
A short break, a few sips of water. Yes, photography can be a hard work. I sit for a moment and check the equipment. We're waiting for the next model to be ready.
In a moment Anita comes to us.
This is my first meeting with her. Anita is a very young, beautiful woman.
Long red hair, beautiful eyes, sensual lips. Anita is very positive, she loves to pose, I can easily see that she enjoys it. Such enthusiasm is the best recipe for good pictures. So we shoot!
We start in a piano room. At the beginning, some portraits near the window, to catch it's light. There are casual shots, but Anita immediately shows her talent. I am already satisfied, although this is just the beginning.
Then we approach the piano. Anita plays. The piano is not tuned, it's about acting.
After the concert, we move to the main hall for a moment. Anita poses on the old chest.
Then we go to a dark room with a old fashioned radio and a brick wall. Some light comes from the roof window. Anita poses on an old radio, on a bed, against a brick wall.
I am very happy with these shots. Anita is the essence of femininity. No wonder we have lots of cool shots again.
---
Malwina, 2019-02-23, Rzepiszew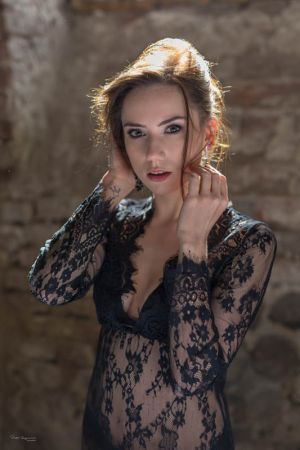 I'm in Rzepiszew again.
This time, the event is managed by She & emotions. I arrive on Friday night.
Managers and some photographers are already sitting aroud the table. Models are supposed to come tomorrow. We have dinner together. The we have some drinks and talks. There are different topics, not only photography. 
The meeting continues well after midnight. Time to sleep – we're shooting tomorrow!
On Saturday, Malwina is the first to stand in front of my lens .
We have not had the opportunity to work together yet, but we get to know each other quickly and everything starts working es expected!
Malwina is an extremely positive person, enthusiastic about photography. I love such models. We understand each other without words, one glance is enough. We're taking a lot of great pictures. Malwina changes stylizations, we move from one room to another, also to the "magical" basement, which has beautiful light coming through a small window.
A bit cold there, the model is very brave, but it's time to go back to the warm surrounding. Finally a few shots in the main entrance to the manor house.
Thank you Malwina for your great work. I hope to meet you again.
---
My reliable Cornelia visits me yesterday.
We talk about old times, and about plans for the nearest future. Cornelia is leaving soon, at the end of the world. I hope she will come back someday and that she will still want to pose for me. Maybe this is not our last session. We'll see what future will bring us.
And then what we both are waiting for – shooting. Cornelia has brought half of her wardrobe with her. Good. Every now and then she disappears in the bathroom and comes out as a completely different person.
I like working with her because she still has new ideas. Not only for the styling, but also in which part of the room to pose and where to put the lamps.
Well, today, we're shooting next to our green tree. At the end of the session, one of the lamps stops working, the batteries have worn out. I have spare, but we are both tired and we are slowly running out of ideas. We're doing some shoots with one lamp and that's it for today.
Thank you for new inspirations in photography.
---
On Sunday evening I come back from the open air in Rzepiszew, on Monday I have a session with Ania.
I met Ania quite recently, at the end of last year. We had three very productive sessions in a short time. The last one was a very sensual session in a milk bath. Almost two months have passed since then, it's time to meet again.
Ania brings a lot of interesting cloths again, every now and then disappears in the bathroom and leaves it as a completely different person. Each such metamorphosis is very motivating and inspiring for me.
Ania is very involved, I can not be worse. We talk about the details of the stylization. Ania makes sure everything fits, I check if there are no tags or scraps seen. And I control light and shadow. Such cooperation works very well.
Today Ania is posing on a black background. Thanks to this, the colors of her styling are even more expressive. Everything looks very elegant. Ania's posing improves on each session.
I wonder what will happen next.
Photography is very motivating.
---
At the end of this beautiful winter day, Milena poses for me.
This is our first meeting, but I feel something special at once.
Milena is a very beautiful woman, endowed with wild fantasy. Every now and then, she surprises me with some idea. I must be constantly ready to record something that she has decided to do.
This is a very intense session. I make the most pictures that day with Milena. Not because I shoot without thinking, but because of her creativity.
It is a pity that it is only two hours. I even stop feeling tired. Milena shows no signs of weariness despite the fact that she's been posing all day long. Her energy magically flows to all photographers who work with her that day.
I hope that someday we will meet at the session again and I will feel the positive photography vibes once more.
---
Patti poses last before dinner.
We've seen each other several times over the last year, so I know the expectations of this beautiful woman.
We are shooting in a piano room. In photography, like in books, you have to tell stories.
One of the photographers has a bag of accessories – transparent lingerie, neck hangers, etc. They really match the beauty of Patti, so we use them.
It is quite dark in the room, like in the whole mansion. We light candles in a candlestick, we show reflection in the mirror. Finally, Patti stands on the windowsill of a large window. That creates an amazing view. Working against the light is not easy job, but the final result is the best reward for this effort.
---
Magda, Martyna, Milena, 2019-01-27, Rzepiszew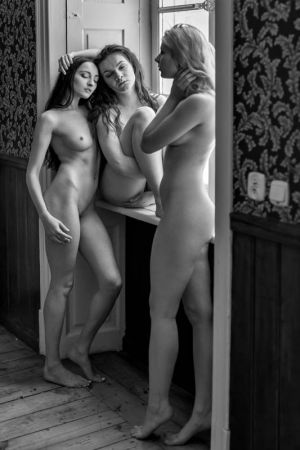 For a moment three models are posing simulaneously.
We have a short break between sessions. Three models are standing in the window.
Full mobilization. All photographers activate.
It is a pity that it lasts so short. Probably not more than a few dozen seconds. For a short and very intense moment in the field of view of the lens there is an unusual and very rare intensity of femininity. Three wonderful models in all their glory.
There is no time to change the settings in the camera, much less to change the settings of models. This moment is too ephemeral to be interfered with. You need to act quickly, instinctively. That's what I do and become the owner of just a few shots of this divine three.
There is rather no chance that it will ever happen again. This is a completely unique moment. I was able to register it. Here I have the chance to share this experience.
Even many days after this happened, the memory of this moment is very intense in my memory. Thank you M&M&M!
---
Magda i Martyna, 2019-01-27, Rzepiszew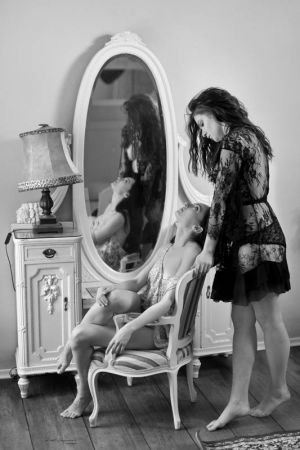 Magda and Martyna pose as a team for a moment.
I think all photographers like it – two beautiful women in front of the lens at the same time. The light version is a scene with a mirror. But it is far from the emotions that two models can show.
Not all models want to pose like that. I understand such objections. But this time Magda and Martyna pose together.
At the beginningh, a dressing table with a mirror. Then a window in the main living room. Finally, Milena joins them for a while. Patti prefers to pose solo.
I would like to see group photos like this on every occasion. I watched both models and photographers and got the impression that everyone was happy with this action.
It is a pity that it lasted so short and that I took only a few pictures.
---
Martyna, 2019-01-27, Rzepiszew
As a second model, I have Martyna in front of my lens.
We've known each other for a long time, we've had plenty of sessions. Before the event begins, we find a moment to talk about non-photographic subjects. Actually, the talk is quite private. I am grateful for the trust that this young person gives me, I try to say something that is comforting and useful, but well – everyone has to carry his or her burden. The model, who poses on an event, must show the emotions that suits the scenery, regardless of her own problems. This is her job. This is how photography works.
This time we work briefly, Martyna poses more for other photographers. And she spends some time on the duet with Magda.
I will show these photose later.
For now Martyna alone.
---
Just a few days ago, friend wrote to me that they are missing one photographer at a photo meeting in Rzepiszew near Łódź.
I had no shooting yet this year. Pictures taken by phone in Soelden, where we were skiing recently, do not count, so a quick decision – I'm going to the event.
I only come for a Sunday. There are four models arranged, who will pose during three sessions. Simple arithmetic suggests that there will be a duo. It turns out that at some point three beautiful women stand in front of the lens.
At the beginning, Magda is posing. We met several months ago in Ojrzanów. Then we took great photos. Now it's even better.
Rzepiszew is not a place for easy shooting. It is an old manor house, equipped with a lot of interesting additions, but it is quite dark in it. Especially on a cloudy winter day. We often need support of artificial light, but without it also a lot of moody pictures are created. Photography is fun.