2020 – next year in which photography will be my focus. Unfortunately, the coronavirus caused a change of plans – I had to give up some great photo events, that I was planning to visit. I will try to catch up in the summer. For now, I can only work with my personal model.
---
Marzka, 2020-10-11, Dolina Olczyska
Our stay in the Tatry is coming to an end, so today we are coming back home.
Of course not in the morning. After breakfast, we pack and take everything to the car. We are dressed for the trip, clean and dry clothes are on top in the trunk.
Often, as the destination of the trip on the last day, we choose the Chochołowska Valley, to which we go after breakfast in a packed car. Today is different. The car stays in the apartment's parking lot and we set off on foot towards the entrance to the Olczyska Valley. We pass under the ski slope on Nosal, where we were skiing so many times.
We are entering the valley soon. It's completely empty. It's off-season, it's Sunday, the weather is poor for hiking – it's foggy and it rains a bit from time to time. In this circumstances Marzka certainly wants to pose for me. We reach Hala Olczyska. We have a beautiful wild mountain stream, boulders and a bridge. Marzka quickly takes off her jacket, fleece, blouse and poses topless. Nobody comes to this place at this time, we are lucky.
Then we move on, we go back to Kuźnice via the Nosalowa Pass.
Great adventure at the end of our stay. And lucky day for photography.
---
Marzka, 2020-10-05, Smreczyński Staw, Tatry
Another photo opportunity appears during our hiking in the Tatry mountains.
I thought that in October Tatry would be empty, the more so that some people would not come due to the extraordinary activity of the virus. These were illusory hopes.
On the first weekend of October, there were still plenty of people on the trails. Fortunately, it got a little bit more empty since Monday. But it was still impossible that there would be no one in such a beautiful place as Staw Smreczyński.
Bad weather came to our rescue. It was such a single rainy day and so this rain scared most of the tourists. It thundered a little therefore they went to the hut. We were left alone at the pond. You never know how long it will last so we only did a very quick session, 2-3 minutes.
We managed to shoot alone!
---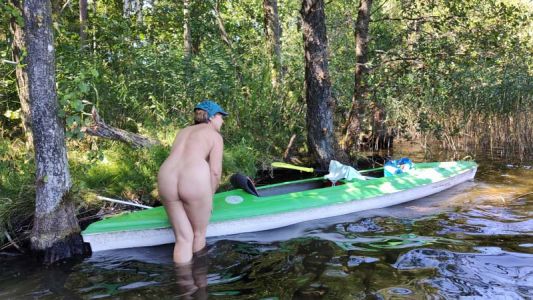 Marzka, 2020-08-09, Swaderki
We have to leave the hotel in Maróz in the morning, right after breakfast, this is the checkout time.
This is the day start, we do not go back home, we are at the lake and we have beautiful weather! We pack and go to the well-known campsite in Swaderki, where we have been so many times before. Today we will only be here for one day, but what a day!
First, on the way, we come across a beautiful and empty alley running between two lines of trees. The perfect place for surprising photos. Therefore Marzka quickly sheds her clothes and runs out onto the road. There is no one at the moment, but we don't know how much time we have, so we take several shots quickly.
Then we go a bit more and soon we come to the campsite in Swaderki. It's still early, there are a lot of free kayaks in the port, so we rent one and set sail. Lake Maróz has quite an interesting coastline, so we can easily find a place for a few more shots. Nude kayaking is fun!
---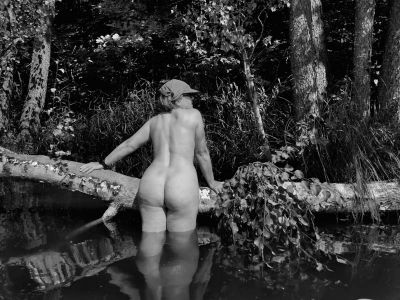 Marzka, 2020-08-09, Maróz
Four days in a kayak.
In ten days we are going on a weekly canoe trip on the Brda River, we will spend 5-6 hours in the kayak every day. In order to prepare ourselves a bit for the trip, we decide to go for four days and go kayaking on the lake. We are going to the well-known Lake Maróz, where we have been camping many times.
This time we live in a hotel with a beautiful lake view. Every day after breakfast, we rent a kayak and disappear for the day. Few people are as active as we are, so we have plenty of beautiful and empty coves at our disposal.
It is a gutter lake with steep shores, so many trees lie in the water which it is an interesting addition to our photography work.
---
Ania, 2020-07-02 drone
At the end of the day the wind calms down.
It means that the drone may take off. The sun is very low, it turns the grass red, the whole meadow is on fire. Oh, that beautiful combination of green and red!!
Ania dances on this meadow.
Mosquitoes bite like crazy, but never mind, then I'll take care of it later, now I'm shooting and … filming. This time photography is not easy.
Everything is very sensual – scenery, sunset, a beautiful woman on a meadow full of flowers.
Green and blue – this is an extremely energetic combination.
And the model's enthusiasm – invaluable!
---
The first session with a model since we got COVID.
We were supposed to meet two weeks ago, but a few hours before the meeting, Ania tells me that she is just starting the quarantine and the session is canceled. Actually good, but I regret it a little.
Today we finally manage to meet.
We are going to the ponds in Radzymin, but it turns out that they are very overgrown and there is no beach there anymore – we give up and go to a familiar area, to the Rządza river where we've been before.
We keep our distance. Each of us in our car, we greet each other by waving only, the 85mm lens ensures the right distance during the session.
The weather is beautiful, only mosquitoes attack like crazy. We, hungry for photos, neglect a little protection against them. But never mind – the most important thing is that we have a lot of wonderful shots.
The sunset and its beautiful golden light.
Thank you, Ania, for helping me get back to shooting.
---
Marzka, 2020-06-22, Wilczy Kamień czyli Turnia Motocyklistów
The last day of our short vacations.
The weather is similar to the other days – it is cloudy and it rains a bit during the day, but not longer than an hour.
We visit smaller rock massifs, including the Wolf Stone, also known as the Motorcyclers Rock. Less than a year ago, we were  climbing on the other side of this rock, we were then at the top. Today we're only taking pictures.
Bad weather is our ally again – apart from us, there is nobody here today, so Marzka poses as she wants and likes. She dances in the meadow under a huge and menacing rock playing with a blue dress fluttering in the wind.
Nobody disturbs us.
---
Marzka, 2020-06-21, Podzamcze
We're going to Podzamcze.
The weather is similar to other days. It's early, probably most people haven't left home yet. Around the castle is empty, we can take some nice photos with the castle.
Marzka puts on a zipped dress, under which she is … herself, without any compromises. This is a great setup for nude photography in public places.
The sky is gray, it can rain every moment, but that's not a problem, we have umbrellas in our backpacks. Fortunately, we don't have to use them.
The castle and the surrounding rocks are not a very large area. After walking aroud it, we continue to a nearby Birów Mountain, where the supporting castle was reconstructed.
Then we reach our car and drive nack to the hotel.
---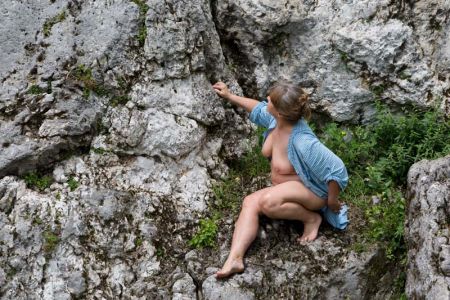 Marzka, 2020-06-19, Rzędkowice
Today a trip to Rzędkowice.
It is a large and very famous group of rocks located a few kilometers from our hotel. You can go there by car or walk through the forest. We choose the second option. That gives us to opportunity to have a very nice walk.
Rzędkowice offer a fairly long row of rock groups ending with a beautiful rock needle, which can only be accessed by a climbing route – there is no easy path there.
We visit them all.
There are few people, some rocks are completely empty, that's where we take our shots.
---
Marzka, 2020-06-18, Jura
This time M is wearing an extremely sexy outfit.
The drone already did its job, took pictures. As usual I also have a camera with me. I pull it out, the lens is covered with fog. Fortunately, I manage to wipe it somehow, then we can start shooting.
We climb to the top of a large rock. During preparations we suddenly hear a group of tourists walking down the road below us. We hope the lush May greenery prevents them from seeing us – we would then have to stop the session.
The area where we take pictures is not safe, because it is very wet, slippery. You have to be very careful. We move carefully, slowly. No need to hurry. Photography is not a sport.
Marzka poses with great enthusiasm.
Have a look at her.
---
A short vacation in the Jura climbing area in central Poland, between Częstochowa and Kraków.
As always, my best model is with me, we plan to do some hiking and some drone photograpy experiments.
The weather does not spoil us, humidity 100%. It rains every now and the, sometimes heavy.
It's difficult to shoot in such conditions. The camera lens gets fogy, the drone does not have an easy task too. It is so stuffy that it is difficult to force yourself to some serious activity.
The only advantage of this situation is the fact that few people walk in the woods and bother us in our creative actions 😉
Anyway – the worse weather, the better photos.
---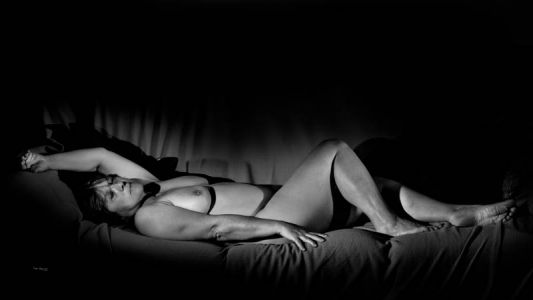 Marzka, 2020-06-07, studio
In a few days we are doing one more session.
This time everything goes even better.
In addition to lamps, we have the idea of chiaroscuro.
This is the concept named by Leonardo DaVinci. The picture message is dominated by the play of light and shadow. There are no halftone details that could disturb the process of looking at the picture. Chiaroscuro was invented for painting, but works as well for photography.
---
Marzka, 2020-06-03, studio
That virus.
Everything has stopped. Not only business, but also my photography. I do not intend to expose models or myself.
Well, but I have the best model in the world at home. The one who is always ready  to stand in front of my lens with enthusiasm.
We have a home studio, you can take some photos when going outside is not safe.
We're doing a session in the dark. Pictures will be processed as black and white. There is very few light.
You can't see too many details, everything is hidden in the shadows. M is very much involved and poses with lot's of enthusiasm.
---
Magda G, 2020-02-08, Kapsel Studio
After three sessions we have a break.
Pizza arrives (yum). We put equipment and session aids aside, we make a lot of space on the tables. We spread pizza, everyone starts to eat and talk.
One can relax a bit. Photography can be exhausting, not only for models. Photographer often carries heavy equipment, sometimes several cameras, takes uncomfortable positions, in which the model looks favorable, climbs on chairs and ladders. Everything for good photos.
Now we all relax and gather strength for the last stage.
Lunch eaten, now to work. Photography is a hard work.
Magda G poses for us on the last shift – tall and slim as a giraffe. We haven't had the opportunity to work together before, so we need to get to know each other before we take interesting shots. The light in the studio is constantly changing, the earth rushes through the cosmos and constantly rotates.
We also rush, rotate the backgrounds, ask the model to move to a different place where the direct rays of the sun cannot reach.
And so we reach the end of today's adventure with light and beautiful women.
Thank you all, it was great.
---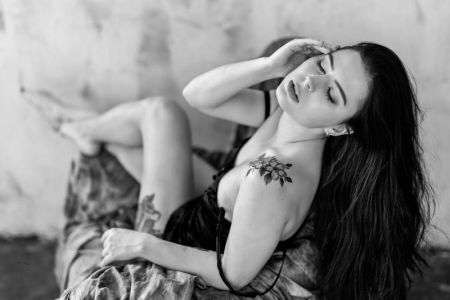 Magda C, 2020-02-08, Kapsel Studio
Next model that poses for us is Magda C.
This is our first meeting.
Magda is an extremely talented and beautiful young woman, perfectly aware of her body. He exudes youthful energy, sex and femininity.
In addition to the obvious attributes you see, ahe also has fascinating tattoos.
We understand each other at first sight. Yes. This is the unique personality type that I love to photograph so much. We do not need complicated explanations what's going on, one look is enough.
We both know what to do. Pictures are taken automatically.
Oh, Magda, you gave me a photographic charm. I will do everything to have you in front of my lens again. Even if I have to go to the end of the world for it. Or to Kraków for example.
---
Agnieszka, 2020-02-08, Kapsel Studio
90 minutes with Lisa passed quickly.
I am looking at the schedule. The next model who will stand in front of my lens is Agnieszka.
We used to work in Ojrzanów a few years ago. It was very short then, just a few photos. Now we have a little more time.
Agnieszka starts in a beautiful red dress.
Classic. The red dress acts as an aphrodisiac. This is scientifically confirmed and works well in photography.
At first Agnieszka has her hair pinned up. Then, at my request, she dissolves them. This is definitely better. Such an exotic hairstyle must be displayed.
Then Agnieszka changes stylization. 
We take different shots in different situations, on a different background. Photography is about diversity.
---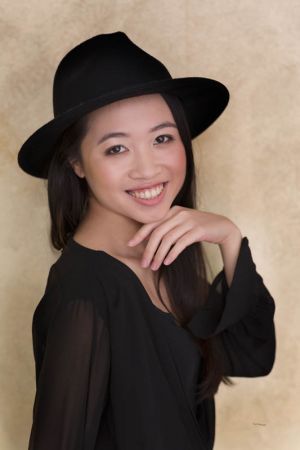 Lisa, 2020-02-08, Kapsel Studio
This year, somehow, I start modeling sessions late. It is already February and I am taking out my camera for the first time this year. I have to try harder, time is running out. Certainly, photography is calling me.
Today we meet in Kapsel Studio in Warsaw, four models and a dozen photographers.
First of all, this is a very interesting studio. One of the walls is made of windows. On such a beautiful and sunny day as today both rooms of the studio are filled with sunlight, therefore no lamps are needed. There is a lot of light, sometimes too much. You need to look for shade to illuminate the model nicely and subtly.
At the beginning Lisa poses for us. In front of the lens I have an extremely beautiful young woman of Asian beauty.
Exoticism. The time we have for photos passes very quickly. Although we are working together for the first time, we are doing very well. Lisa knows what's going on, she can play in front of the lens.
And I love her charming smile.