2018 – next year in which photography will be my focus.
---
Ania, 2018-12-08, photography in studio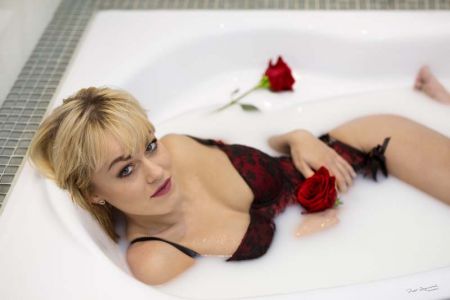 Another session with Ania, it looks like we're working well together.
During the previous meeting, Ania mentioned the session in milk. In a bathtub filled with milk.
I know from experience that the equation for a session in milk looks like this:
beautiful_woman + bathtube_filled_with_milk + flowers = beautiful+shots
I do not think it's possible without flowers, at least I can't do it.
Good. Ania arrives by train, I pick her up from the station, we go for flowers. We choose dark roses and slightly brighter cloves. I bought milk earlier. Contrary to what some people write, you do not need so much. We pour water and three liters of milk into my tub.
I leave the bathroom, Ania puts on a white petticoat, dips into milk and calls me that she is ready to pose. I enter the bathroom, have a glance, and I know that we will have beutiful pictures.
This is our first stylization. Halka wrinkles wonderfully on tanned skin, the lamps work well, I go up the ladder and shoot. It's good that we know each other, Ania is perfectly relaxed, it's the key to good shoots.
So we shoot!
---
Ania, 2018-11-30, photography in studio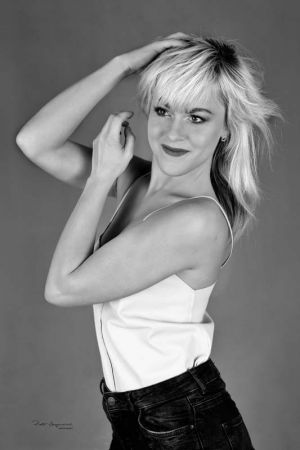 Only two days pass and I have a session with Ania again.
Ania writes that she wants to meet me again in my studio. After the experience of the first session I have no doubts. Ania, come when you can. You can always pose for me. I only hope that the equipment will work, problems during the last session have brought me down a bit.
We have the session very quickly. Different stylizations today.
Ania knows me a little bit, she's even more relaxed than on the first session. We create beautiful pictures again. After the session, we still have some time to talk and preview photos. I like working like this.
Just wonder what will happen next time.
I can not wait.
---
Ania, 2018-11-28, photography in studio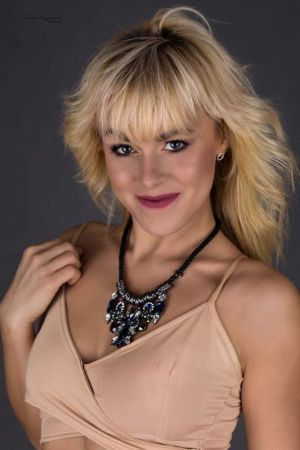 A preview session in Ania.
We make contact on MaxModels. This portal, which everyone complains about, is still useful.
Szybko ustalamy, że chcemy się spotkać i zrobić fajne zdjęcia. Jak obie strony chcą tego samego, to wszelkie przeszkody same znikają.
Nie jest łatwo. Dziś jest jakiś zły dzień. Moje lampy odmawiają współpracy z aparatem. Ania też ma jakieś problemy transportowe w drodze do mnie. No ale trudności obiektywne nie są w stanie pokonać determinacji dwóch osób, żeby się spotkać i zrobić razem coś fajnego. Lampy zaczynają działać, Ania pojawia się w moim studio …
I już się cieszę. Przed moim obiektywem staje niezwykle pozytywna osoba. Piękna kobieta. Wulkan energii. Zniewalający uśmiech, któremu nie sposób się oprzeć. Burza blond włosów. Fitnessowa sylwetka. Doskonale przygotowana do sesji, kolorowe stylizacje.
I to najważniejsze – pozytywne nastawienie. To jest coś, co dla mnie jest najważniejsze w fotografii. Mowa ciała nie kłamie nigdy.
Dziękuje Anno za te cudowne chwile przed moim obiektywem. Mam nadzieję, że to dopiero początek naszej współpracy. 
---
Kornelia, 2018-10-30, photography in park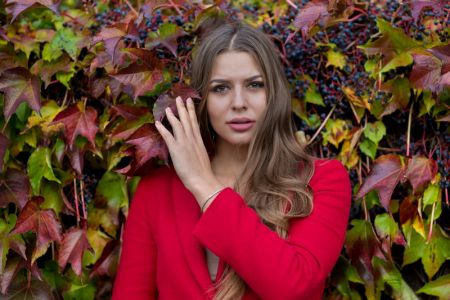 For some time it was already cold and rainy.
I thought it was the end of a wonderful autumn. That I will have to move with shooting to the studio. But the beautiful weather came back.
I'm meeting Kornelia again.
We go to a place where last autumn I saw beautiful leaves and in December I photographed dried grapes against a colorful wall. It's not far, but we're coming up by car, Cornelia's shoes are awkward …
The leaves are insanely colorful. I wonder how the camera can register this color palette.
Cornelia, as usual, poses with great commitment. And so we create these colorful paintings are.
I wonder if this is the end of this weather? Or maybe it will last until December?
---
Kornelia, 2018-10-15, photography in park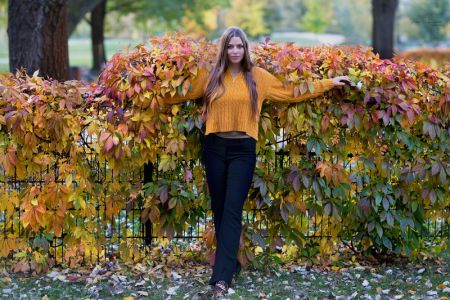 We have just returned from our hot vacations to Fuertaventura. 
Kornelia writes to me. She wants an autumn session. You never say no to Kornelia. Never!
Really. There is beautiful Polish golden autumn in Warsaw. We meet in a park where there are lots of colors. 
Kornelia, of course, knows these colors perfectly and chooses clothes for them. I am impressed by her sense of color.
I have the impression that we are already communicating extrasensory. In the end, we know each other for a long time and I'm thinking – did we have more photo sessions or meetings with talks about everything.
Sometimes I wonder who are you to me Kornelia?
---
Marzka, 2018-10-07, Fuertaventura
This is our last evening in Fuerteventura.
We decide to go a little crazy. After dinner, we're going to the city.
We take the camera and the champagne mood. We are in Spain, so it does not bother anyone as Marzka poses. The people we meet in the city smile friendly at us.
Two weeks of staying on a hot island are doing their job. We are relaxed, tanned, eager for further impressions. In such circumstances cool pictures are created. My own model poses with the freedom and enthusiasm.
The weather is of course favorable. There are Canaries. The sun is a low, we have golden hour. Shooting in these conditions is a pleasure.
---
Marzka, 2018-10-03, Fuertaventura
Our vacations, Fuertaventura
We're going on a full day trip to the south of the island. Gravel roads, off-road vehicles. We visit deserted, very beautiful places. At lunchtime we have a break on the beautiful beach.
Running down the cliff we throw off our clothes. The water is wonderfully cool. I can not imagine a better relaxation. We enjoy the beach and the ocean. And above all, our own company.
After swimming, we have a quick photo session. We do not have much time, but we work quickly. Sure, we have some great shots.
At the end we try to take water photos, but one big wave breaks everything. Fortunately, the camera survived.
It's time to go, there are still many hours  ahead of us today.
---
Kornelia, 2018-09-18, photography in park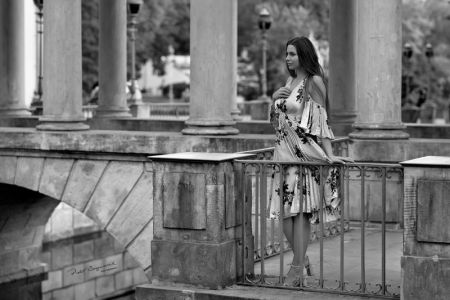 I'm meeting Kornelia again.
Yes, this beautiful woman who posed for me just several days ago wants me to shoot her again. I am lucky guy …
This time we meet in a wonderful Warsaw park Łazienki. Again we aim at the golden hour. There are a lot of people in the park, they bother us a bit, but we do them too. 
It is late, the sun is moving fast towards the horizon. There is no time for changing the dressing. The whole session takes place in one stylization. But Cornelia magically creates different looks.
We work only in the area of the Palace on the Water. It's getting dark fast.
Finally, we stop shooting and sit on the bench. We talk for a while, non-photographic subjects. Then in the thickening darkness we go to a car parked near the gate. We are both tired but satisfied. It was a nice session.
Thank you, Kornelia, I hope we will meet again soon.
---
Another roof session. This time my Kornelia poses.
I dare to write "my" because she's the model with whom I had the majority of my sessions.
A completely spontaneous session. Short message exchange and in effect meeting and shooting. We surely meet an hour before sunset to make use of the golden hour.
The setting sun miraculously illuminates Cornelia, her brown, tanned skin. And it creates beautiful golden reflections in the Warsaw skyscrapers, we have the whole city panorama below us.
We work until the end, that is, until it just gets too dark for shooting.
It's time to go home.
Thank you, Kornelia.
---
Sunday, the second day of the event.
Today, only one session. Sonia poses.
We have not had the opportunity to work yet. Today is the first time. As every first time – it is exciting and mysterious.
Yesterday was a tough day – everyone is tired and satisfied, both models and photographers. Today's session seems to be just the end of the event. I think so at the beginning of the session.
However, when Sonia starts her magic, everything changes all of a sudden. I want to shoot again.
We start in a rather dark room, we use windows. Then we move to the glazed veranda, where we worked yesterday with different model. Today I discover new places where the model can stand.
Why I haven't seen them before?
---
At the end of the day – Martyna.
We know each other well, so it's easy to work.
Martyna is a very experienced model, she instinctivly knows how to pose. And she is very patient and strong, despite the many hours of work she has behind her, she is still full of energy.
We take pictures on the pier, near the house on the water, then in the gazebo surrounded by water. At the end, we go to the bathroom with a beautiful steel bathtub – Martyna was cold and wanted to warm up.
It's getting dark, not so dark that you had to reach for the higher ISO, but I feel less light. It is more delicate and very beautifully draws the silhouettes of models against the background of the slowly darkening sky.
The day is coming to an end. We all feel tired, both models and photographers. The work is hard on both sides of the lens, as long as one gets really involved. But it's worth the effort.
Good mood is not spoiled with a small incident that happened at the end of the day. Many photographers take part in the outdoors. Even before the event, one of them greets everyone on the event FB group, calling them disturbants and thieves of his shots. He comes to the event and wants to work alone. He can. However, it is a bit strange that te requires the non-disturbance only from ther others. He is above his own rules – while my team is working with Martyna, this sad guy takes a model from us during our session for some shots. I hope I will not meet him again.
---
After two morning sessions, we have a lunch break.
Then we have to rest a bit and at 15:00 we start the afternoon shooting.
Now, Ania is standing in front of my lens.
We have not had the opportunity to work together until now. I know her only from the net.
Looking forward to this meeting and … I am not disappointed. Ania has a lot of experience in posing. She also has inexhaustible resources of personal grace. And of course, what's most visible in the photographs – she has this "something", that makes her photos attract the eye.
The weather forecast is working today. Indeed, it stops raining in the afternoon. We can go outside and we do it with pleasure. We shoots in a charming gazebo on the pond. Ania poses here in various configurations. Then we move to the old trunks.
At the end, we go to the small bridge.
---
Second session today.
Ola is posing. We met almost two months ago, during a photo meeting in Ldzań. We were shooting in nature, in the river, on a tree lying in the forest.
Now we're working indoors. We start in the bathtub.
Then we go out on the balcony for a short time, but it's cold and every now and then it rains a little, the model prefers indoor shooting. Then a bedroom with a large bed lit from above by a roof window.
Green sofa.
Finally another balcony.
---
I was already in Ojrzanów, almost a year and a half ago. Time to repeat this, I hope for better weather than last time, at least it should be warm.
We start on Saturday after breakfast. Unfortunately, it's still raining a bit, so for now we have to work indoors, but the weather forecast promises that the rain will end soon.
At the beginning, Magda poses for me. This is our first meeting. We need to get to know each other. But there is a very good contact, we quickly establish a connection. And we shoot.
We start on a glazed veranda that provides warmth and a lot of nice light.
Then we move to a room in a wooden house, Magda sits on the windowsill of a large window.
---
I've been thinking about a roof session for some time.
Actually, I was inspired by another model, Patrycja. She told me the idea and proposed a location. But for several months we failed to meet.
During that time I did a reconnaissance, I visited the roof several times. I took test shots, examined the area, whether it is safe, what kind of view is there. I have to plan the entire shot. Starting from the model's stylization to the kind of lens, which I should use there.
We have holidays, weather is beautiful, time is running out. Marcelina writes to me, she wants to arrange a session. So we go to the roof. 
We work at times when there is the best light – the golden hour. We choose evening, because then the sun is on the right side. It illuminates Marcelina's face with a warm, golden light.
In the background we have Warsaw.
---
Spontaneous trip with my Marzka for a weekend to the beautiful lake.
Camping, nature in all its glory.
We rent a canoe for the day, then the whole lake is ours. We are kayaking to small wild beaches, we throw off our civilization shell and swim. In our kayak we have provisions, drinks, photo equipment. We do not need anything more.
The weather is a big surprise. We have several showers, sometimes with distant thunders. In summary – it's OK.
Kayak is a beautiful invention. If you do not kayak often, hands are not used to oars, but who cares in such beautiful circumstances of nature.
Fresh fish from the lake for dinner. In the evening walk and relax on the pier. 
We sleep in the car, it's … wonderful. La vie est belle.
---
Easy, this word (Rządza – Desire) carrying a strong load of eroticism is capitalized, because it's the name of the river in which we have a session. 
Yes, in which, because we both enter it, not only symbolically.
It's very hot, the water is wonderfully cold. And it flows quickly. Just yesterday I was in Łódź, in a beautiful old villa. Today I am with the phenomenal Minerwa on the wild river.
Minerva is a water creature, in the river she feels like a fish.
We have a beautiful old tree that lies across the river. A model who is not afraid of water. Only high and strong sun disturbs us a bit.
We shoot by the tree and in the river grass. Then we go to the shaded part of the tree. We have best shots there.
We are here quite early, because we have other plans for the rest of the day. Unfortunately, later it turns out that, that we can't implement them. These shots in the water, next to an old fallen tree, is the only session today. Results are great, I expect nothing more from today.
Thank you Minerva for this beautiful day, for a session in the water, for swimming together at the end of the day.
---
Lila, 2018-07-21, willa Allarta
Finally, Lila.
I've worked with Lila before, but we've had two years off. Today we have the opportunity to refresh our photographic friendship in the Villa Allarta.
The passage of time works in the favor of Lila. Just like two years ago, she is still a very beautiful and sensual woman. But she has even more experience in posing.
Every frame with her is perfect. It's a bit of a lazy for a photographer. Lila sets herself perfectly to the picture, I should just do not spoil it.
And that's how beautiful shots are being created.
Lila is wearing a very sensual stylization – lace collar, long lace gloves behind the elbows, stockings and high heels. Photographers from other teams envy us. Lila looks insane.
Then she adds a corset to that.
I have already described all the models that stood in front of my lens in the Villa Allarta.
At the end I left the best news, at least for me.
I've already written that in ftoto events I value both meeting new models and photographers. This time I met someone who reads this blog.
Yes!
In the break between sessions, one photographer approached me and said that my photo blog inspired him to delve into photography. I admit that sometimes I had doubts whether someone is reading this or maybe only just a few people are watching pictures. It turned out that my descriptions of the session and the entire photographic path leading to work with models were useful, maybe even inspirational, at least for one person. This short conversation gave me strength to continue working.
Thanks! 
---
Patrycja, 2018-07-21, willa Allarta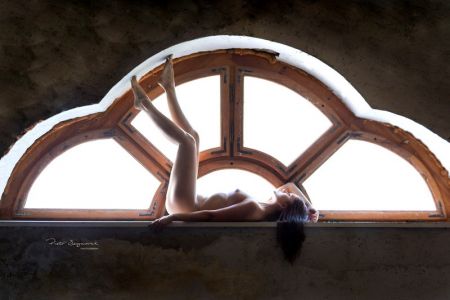 Well, half of the event has passed, it's a pity that time flies so fast.
We are now shooting Patrycja.
We met each other two weeks ago, in a different location, in Ldzań. There Patrycja beautifully posed on the stones in the river near the mill.
This time we work indoors.
We're going to the attic. At this time of the day it is extremely hot there. I'm sweating, I do not know how the model can withstand such temperature.
We help her to climb to the window sill under the skylight. The scenery is fabulous. Patrycja poses perfectly. She has a great sense of the frame, as if she was looking at herself through the camera's viewfinder.
Then we shoot in other rooms. And balconies!
---
Kaja, 2018-07-21, willa Allarta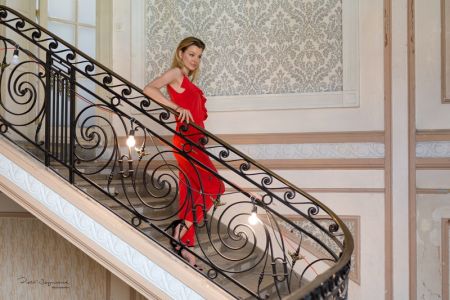 Kaja becomes the second one in front of my lens.
We already have one session behind us, the model is in the right mood, I know more or less which rooms are interesting, where is good light, nice background.
We start on the stairs.
Well, stairs. This is probably the best preserved part of the villa. This is a key element, it is used to move between rooms and floors. The stairs are in good condition, just like the barrier surrounding them. I feel safe.
In the middle of the stairs is a beautiful, colorful stained glass window. The only inconvenience is the excess of light falling from behind.
Some take out the reflectors. I have a portable lighting set powered by a remotely triggered Yongnuo flash light. Almost one and a half meter wide octagon reflector gives a lot of light, it is even stronger than the sunrays entering through the stained-glass window. 
Kaja beautifully poses on the stairs. You do not need to tell her what to do. I do not know if this is experience or natural talent. Either way, the end result is excellent.
Then we move to other rooms. 
---
Angelise, 2018-07-21, Willa Allarta
I'm going to the next event.
This time in Łódź, in a historic villa that once was gloriuos, now ruined. You can rent it for a party. We arrange a photo event there.
The villa is in a pretty bad condition, it probably bothers a lot when someone makes a birthday party, but for shooting it's the perfect place.
We have four models and plenty of rooms, balconies and stairs.
As usual, we work in teams of three photographers. Every 90 minutes models move to a different group of photographers.
At the beginning, Angelise poses for us.
We've all just arrived, we're starting to shoot, we need some time before we go full speed. At the beginning Angelise poses in a dress. Then in underwear. After half an hour of shooting she is ready to show some more flesh. And I must admit – it was worth waiting.
We use various rooms, a balcony, a door. At the end, we visit the attic. It is very hot there, we all get wet soon. Well, but there are beautiful shaped windows and an unusual back light. And did I mention the shapes of our model?
It is difficult to shoot there, it is quite dark and the lens has to work against the light, but we take some shots in these difficult conditions.
---
At the end of the day Ola is posing for us.
We are all a bit tired now. But Ola doesn't show fatigue. Her posing is excellent.
Fortunately, the sun is quite low now, it hides behind the forest and the river is covered with shadow. This is where we keep Ola. 
We have a wonderful model, beautiful circumstances of nature and beautiful light of the setting sun. Can we ask for more? In these conditions beautiful pictures are created.
In such a harmonious team, we overcome all problems, nothing can stop us. Even terrain problems, such as not being able to go down to the water.
Perfect cooperation results in excellent shots, like this with a veil. There is no wind, this shot would not be possible without help from Arek.
Even Ola expresses her surprise how perfectly we (photographers) cooperate.
And that's how it is. Cooperation of the whole team is a key for good shots.
Thanks Ola and Arek. It was a great day.
---
The next model this day is Marharyta.
You can see at once that she was a ballet dancer. We talk. M tells some of her story, including ballet. It helps, we have better communication.
Arek is incredible, he has a ballerina skirt in the trunk – it fits perfectly. He has everything!
Then we take some other shots. We use birches, scarp over the water, some ideas with a javelin and a fishing rod. Ballerina is fishing!
Marharyta is a great actress and she understands what we expect from her. She feels great in every styling, we prepare.
We have excellent shots!
---
I'm going to outdoor photo event with three models. We will be shooting near Łódź, on a small river.
I arrive a little after 10:00. At 10:30, all photographers and models arrive. We have a talk. Some people I know from earlier events, but most are new.
We start shooting at 11:00.
This time I work in a two-person team with Arek.
Patrycja is the first model who poses for us.
We jump into the car and drive near the old mill. It's not far from the meeting place, five minutes by car.
We park and go several hundred meters to the place where the stream miraculously flows between the stones. Patrycja poses with grace. During the session, some people with a dog cross the stream, but we don't care.
Arek has a lot of session gadgets, we use them. Patrycja has something too. Shooting is going well, we soon have a lot of nice pictures.
Water is sometimes cold and sometimes warm. Patrycja patiently submerges and poses with grace.
---
Martyna, 2018-07-03, photography in studio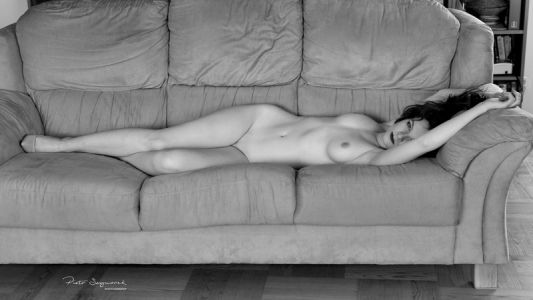 I already had several sessions with Martyna, then we had two years off.
A few days ago I wrote to her and here ahe is!
We make an express arrangement, everything goes well. I pick her up from the subway station, then we go to my studio.
We start with filling this two-year gap – we talk for at least an hour. When we know roughly what has happened in this time, we start preparations for the session. Martyna is doing makeup, I'm preparing a list of inspirations. I also pull out my photo gadgets.
We view everything, then Martyna choses – BDSM. Great!
We work in the existing light, no need to use studio lighting. Martyna has a lot of experience in posing, besides we already know a bit – work goes smoothly and quickly. We shoot on the sofa, on the floor, on the balcony. Finally, the boudoir setup.
Nothing lasts forever, it's time to finish.
The pictures are great, so you will have to make an appointment soon to do something new.
---
Mariola, 2018-06-25, photography in studio
The day before her departure, Mariola stands again in front of my lens.
This time a bit unusual – we start with a classic nudes and then we take some portraits. The time of shooting is also unusual. When Mariola enters the studio setting in her stunning outfit (!) and we start the shoot it is 22:58.
In this circumstances, it is not strange that we finish well after midnight. Mariola still wants to see the pictures on the big screen and choose the best shots, but for me it is too late to work, it has to wait until tomorrow.
On Tuesday Mariola goes to Wroclaw for her the next sessions. How quickly this time passed, I will miss you again. And wait for the next meeting.
It's good that there is still a lot of work on the photos, it will create an opportunity to come back to this magical time.
---
Mariola, 2018-06-23, photography in studio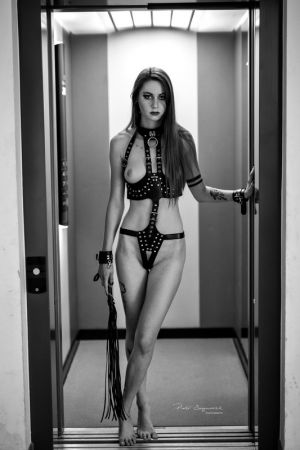 Mariola comes to Warsaw for a few days. Actually, it's almost all week long. I am a lucky guy.
I'm looking forward to meet her. Just remember great shots we took two years ago in Masuria lakes. Finally, the elevator door opens and SHE appears. As usual, she travels without luggage – she does not need it. Can anyone question this? I do not think so.
There is an opportunity to renew our photographic relation and have a session in studio. Mariola's calendar is rather full, but she finds some time for me. During her stay we have two sessions.
It's not only about just taking pictures. We do cycling, we are on a concert in the Modlin fortress. We probably would stay on it until morning, but tomorrow Mariola has two other sessions, so she must have some rest befor next day. Let's come back home just after midnight. Night ride in the company of a beautiful and fascinating woman is pure pleasure, despite the tiredness I do not want to sleep.
On Saturday before the concert we had a wonderful session. This time the bold styling. BDSM! And why should we stay in the studio – we go out. Our neighbors missed the opportunity to cheer us on the stairs – good for us.
Finaly we also take some shots that can be uploaded to FB.
On Tuesday Mariola goes to Wroclaw for a a session in Sky Tower. How quickly this time passed, I will miss her. And will wait for some next meeting.
---
Justyna, 2018-05-27, Kryspinów
We go to Krakow for the weekend.
The main goal is a chillout in the Oldtown, walks on the plants, an evening rest over a mug of a golden drink in some nice restaurant.
I hope to shoot some new models during our stay in this beautiful and peaceful city. As usual, it is not easy.
First, I'm trying to arrange a session with Melania. We have already been working on a  Fotogenerator, but there was not much time and we both wanted more. On the day or two before the weekend Melania sends a message, that she can't afford to meet me. I am a bit disappointed, but we arrange another date, this time in Warsaw. We'll see, maybe it will work.
I'm messaging several other models, two of them are interestingn in a session with me. It looks good – one session on Saturday and one on Sunday.
Unfortunately, on Saturday all we can do is sightseeing, the model fails to arrive on time. Two failures in a row are not a pleasant experience.
On Saturday evening, Justyna messages me and we set a plan for Sunday. This time everything is going well. Justyna organizes a trip to Kryspinów. Beautiful lagoon, beaches, reeds, clean and warm water. And last but not least Justyna. There are a lot of people around, kayaks, but we manage to find a tiny isolated place with reeds and a tree by the water. No one can see us there and that's where we are shooting. We start with portraits in the shadow of a tree. Then we enter the water. First, lace, transparent underwear, then … other stylizations.
---
Agnieszka, 2018-05-19, photography in studio
And now Agnieszka.
We know each other for a very long time. Agnieszka usually takes on the role of a photographer, but today she stands on the other side of the lens. I think the ability to work "on both sides" gives some kind of advantage. Maybe I should also be involved in posing.
Today, we mainly do official shots, office outfit.
Then a little more casual stylizations.
We have a lot of time, but working with two models gives no time for a break. Fortunately, everything goes very smoothly.
---
Paulina, 2018-05-19, photography in studio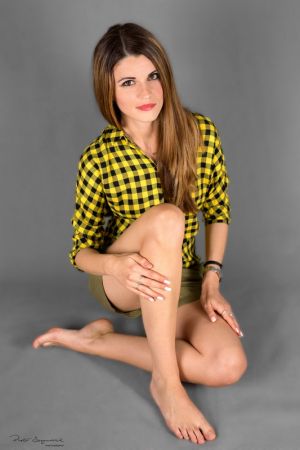 Today I met Paulina.
I met Agnieszka, for whom we took official photos and some ordinary ones.
And a surprise – Agnieszka came with her friend.
We had a very intense three hours. During photographic workshops, in which I take part from time to time, I usually work in teams of 2-3 photographers and one model. Today it was quite the opposite – two very active (and attractive) well prepared models and one photographer – no time for rest.
When one of the girls posed, the other changed the stylization. There was no break.
I really like such intense meetings. Paulina does not have much experience in posing, but she learns quickly. Positive attitude and good preparation (makeup and styling) is very important.
We have lots of good pictures. Thank you Paulina.
I hope we'll meet again one day.
---
A bit crazy session.
Tomorrow at dawn (and even a little before) we fly for a week's vacation to Mallorca. But as Marcelina writes me a message, that he has time for a session with me, I can not waste this opportunity. We meet at the Metro station and drive to the Kępa Potocka park.
We meet at noon. There is a lot of sun, the time of day is not good for photography, but it was impossible to make an appointment at different time. Marcelina has a make-up in the morning, so we have to act quickly. And in the evening I have to take care of packaging for the trip.
The sun bothers us a little, but we manage to find some shade.
Today greens dominate. Green blouse, green grass and wonderful green eyes.
They are the main topic. I have to be careful not to hypnotize me, because then there will be no pics. We're still looking for shadow, we have some old big trees. As usual, Marcelina poses perfectly, professionally. The first shots are not what we expect. But we correct it immediatly. Then it's getting better.
---
Second day in the castle.
Today only one session, we have little time, the hotel day and our stay end at noon.
Despite tiredness, we try to make good use of this time. Photography requires effort.
Ika has the same dress as Sonia had the previous day. But she is a completely different type of beauty, so the pictures are different.
---
Daria, 2018-04-21, zamek Czocha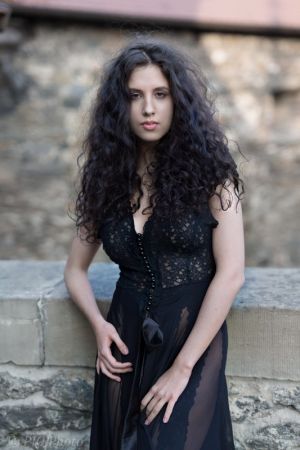 Daria is posing.
We never met before, but I really wanted to capture her phenomenal beauty with the camera. When I saw her I managed to stop her for a moment on the bridge when she was returning after the last session with her team to the visage chamber.
Then I took only few shots, there was no time for more.
My effort paid off.
Oh, how much I would like to meet you again and have more time for photography.
---
Kasia, 2018-04-21, zamek Czocha
This is the last session today.
We manage to get to the most beautiful chamber in the castle.
In its heyday it was the owners' bedroom. There is a beautiful marriage bed. Lots of antique furniture. It's very dark, thankfully I have my portable lamps. I set them up quickly, put the driver on the camera and voila!
Kasia very sensually poses on the bed, her decorated dress revealing legs adds grace. I love this kind of photography.
Then some pictures in the bathroom – mirrors!
---
Sylwia, 2018-04-21, zamek Czocha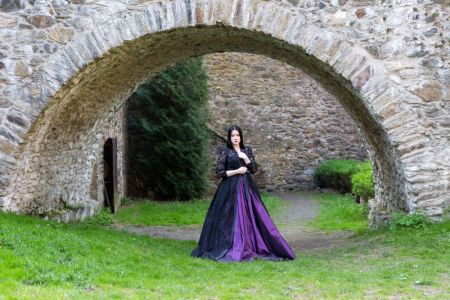 Meet the witch.
There must be a witch in an old castle. When we took Sylwia from the make-up room and walked towards the foreground, we passed a family with children visiting the castle along the way. And children, of course, a secret whisper to their parents – look, witch!
But Sylwia is a little unusual witch. Unusual, because very nice and sympathetic. And completely harmless. But styling can be scary. Photography loves contrasts, not only in light.
---
Sonia, 2018-04-21, zamek Czocha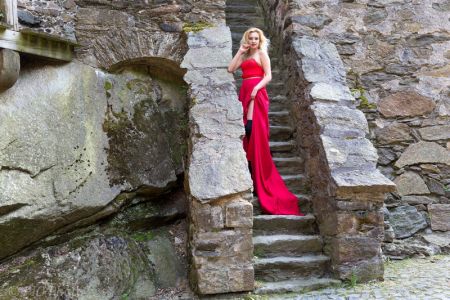 I had the opportunity to meet Sonia before.
Then we were taking pictures at the Warsaw Citadel. But it was a few years ago, it's been a long time for me. It's good that we refreshed our acquaintance. I think we've both gained some experience since then in the area of photography.
This time there are old walls in the background and Sonia is in a red dress again.
---
Victoria, 2018-04-21, zamek Czocha
Next session. Now Victoria is standing in front of my lense.
She is very small, even fragile, but very feminine.
Dressed in a short, black lace mini dress. Red lips complete the picture. A perfect object for my photography desires.
---
Karolina, 2018-04-21, Czocha castle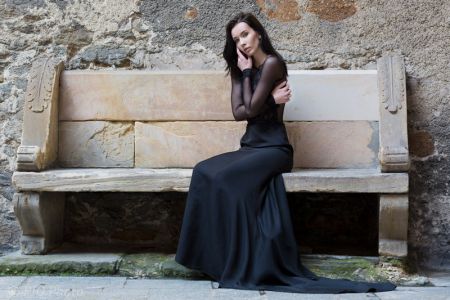 Outdoor photography in a beautiful castle Czocha.
On Friday, we take free and quietly set off in the morning. We want to get to the place around 5:00 PM, to rest a bit on the spot after the trip and initially explore the area and the castle itself. Even though we have over 500 kilometers to go, we are able to implement this plan.
We come to the place. The castle meets our expectations. Beautifully located, over the lagoon, among the forest. Old building, perfectly preserved. Inside it feels atmosphere of old times. Great scenery for photography.
This time it's a big party, there are over 30 photographers, over a dozen models, specialist in make-up, hair and stylist. There are a lot of costumes, especially dresses that match the scenery of the old castle.
The first model today is Karolina. We do not know the topography of the castle yet, we do not know where the light is, an interesting background, where visitors will not be disturbe us.
We are shooting in the knight's hall, in the library, on the patio, on the stairs near the cloisters.
---
I met Kasia two weeks earlier on the Fotogenerator.
During the shoot in the Botanical Garden the time to work with the model was limited. We felt unsatisfied, hence the idea for an individual photography session.
Kasia chooses the Warsaw Citadel.
The weather is beautiful, we meet in the late afternoon, so that the sun is low. This is my first meeting with a model in this location, although I've been here before on a photo reconnaissance. Thanks to this I know where to go to have an interesting environment as a background. We use these places.
We have a lot of cool shots.
---
Fotogenerator 9, 2018-03-24, Ogród botaniczny PAN
This is my third Fotogenerator.
This time, we work in the Botanical Garden of the Polish Academy of Sciences in Powsin. At our disposal is a palm house, or actually two palm houses.
Conditions for shooting are excellent, lots of delicate, scattered light, beautiful plants as a background, lots of places sheltered from direct solar operation and filled with light.
The event is attended by twelve models, who in addition are changing their stylings. You can get lost who is who. Fortunately, event managers take pictures of each model in each stylization with an information board, this is a great help during the subsequent postprocessing. Photography as a helper for photographers, nice.
It is cold and ugly outside, but greenhouse offers warm and pleasant ebvironment. I start in a thin polar, but I get rid of it quickly, t-shirt is enough.
It is warm and wet, but the equipment performes well in this conditions and you can also safely change lenses.
It is a pity that there is so little time for every model. So much work has been put into their stylizations and make-ups and after a dozen shots you have to finish. I hope that I will meet some of these models at the private session in the near future. 
---
Kornelia i Olivia, 2018-03-23, photography in studio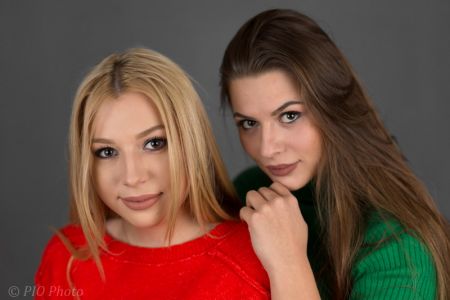 At the end, two beautiful women pose together.
This kind of session is always unique for me. It's an opportunity to show emotions.
Photography is all about emotions and stories. They "make" a good photo, not super equipment or pretty faces.
---
Olivia, 2018-03-23, photography in studio
This time Kornelia comes with Olivia.
This beautiful young woman was already standing  in front of my lens, during a very intense photographic weekend in Masuria, during my previous summer holidays. I had the pleasure of photographing three sisters in different configurations.
This time, we work in a studio. Olivia is very well prepared, both in terms of make-up and styling. And she changed her hair color since the previous session.
We work smoothly. For colorful styling, we use a gray background to make colors more intense. Then we go for more sensual scenario – black body and plush sofa.
---
Kornelia, 2018-03-23, photography in studio
Cornelia was shopping and has some new clothes.
They need to be photographed so that there is something to describe on her blog. One more application for photography.
Lets do it. 
We already had a lot of sessions with Kornelia, we know our tastes, we work very quickly and efficiently. We do not need to explain what is going on, we understand each other without words.
---
Sylwia, 2018-03-03, photography in studio
With Sylwia, we know each other for not long.
We had a studio session in January. The effects were excellent, so we meet again.
This time in a home studio. We do not have much time for shooting, but we try to use what we have. I think we're doing fine.
This is only our second session, but we are making rapid progress.
This time Sylwia has a beautiful dress, we are shooting on a gray background, on the balcony and on the sofa. Yes, sofa is perfect for sensual shots.
As usual, the last shots on the session are the best. The model is finally relaxed and it shows.
---
Kornelia, 2018-03-01, photography in studio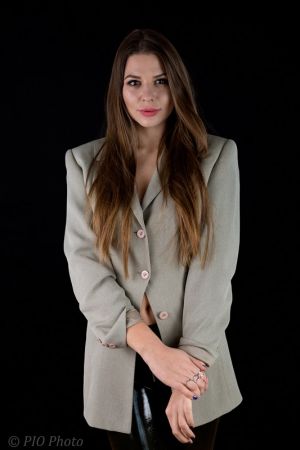 Interesting day today.
Finally, I have a lighting set in a home studio that I always wanted to have. In addition, my most photographed model, Kornelia, visits me and we have a session. 
We used to meet more often, lately it was a bit harder because we live far away from each other. But as they say they say, old friendship does not rust. And this come back is very successful.
I hope that we will meet again more frequently for sessions. Love to work with you.
Photography brings us together.
---
Marcelina, 2018-02-06, photography in studio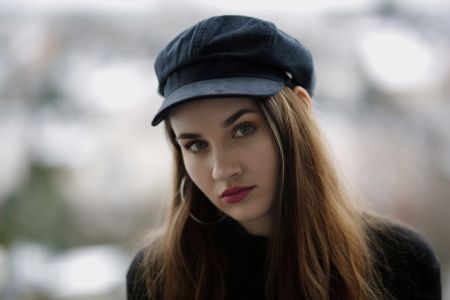 The beginning of the year always involves some kind of photographic stagnation.
I was thinking about it and I still do not know why it is so. Maybe it's winter, which puts everything to sleep and slows down, but not really, because I love winter. Well, unless models are less willing to be active, it may be the case. Few of them like winter and snow, most prefer warmth, so photography is limited to studios or some other warm placess. 
The second session this year, again in the studio. I manage to make an appointment with Marcelina, I use the break in her classes. Only one day off, but it's enough for us.
I worked with Marcelina last year, we were shooting outdoor, in the Warsaw Old Town. A lot of nice photos were created then. This time we are shooting indoor. It is different, but Marcelina again shows her class and performs as a top model. We even go outside for a few moments, but the cold quickly rushes us back to the warm interior.
I feel that Marcelina has a huge potential that I can not use yet. I hope for the next session with her, this time maybe again outdoors. But I have to wait some time for the right weather for that.
---
Sylwia, 2018-01-06, photography in Studio Chmury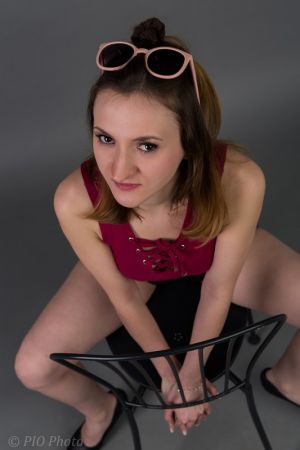 This is my first session this year, scheduled much earlier, at the beginning of December. Sylwia reviewed my work and wants to meet in the studio. Great, we love new photos and new models!
Sylwia is booking a studio. Two hours, as usual.
We meet on the spot. I'm for the first time in this studio . The first impression is very good, perfect lighting, peace, something to drink. Sylwia is coming in a moment, a short welcome and we are starting the shoot.
We have good communication and good progress. I feel that we will take some cool shots.
I love photography not only because I can take great shots of beautiful woman, but also because I meet nice people all the time.