Photography 2023
Last year I had only few sessions. Summer outdoor session with Ania, then an intensive photo day at Loft22 in early December, where five new and very beautiful models stood in front of my lens in one day. This is probably a good sign and I strongly believe that this year there will be more of these photo meetings. I believe, but I intend to definitely act, because without my activity, there will be nothing.
Take it as a declaration.
---
Black Rose, 2023-07-21, Ciszyca
Black Rose is an experienced model from Lodz.
In July, she comes to Warsaw due to her activity as a burlesque dancer.
We arrange a joint session with a photographer friend on a well-known large beach in Ciszyca, south of Warsaw, which is empty during the week. We meet in the car park, from here we walk together along a winding path through the forest growing right behind the Vistula embankment and soon we reach the beach.
In front of us are large expanses of white sand deposited by the Vistula. Here and there are huge logs of trees that the river has washed up on the shore.
We are alone.
We walk for a good few minutes on the sand until we reach the waterline. Beside us lie fancifully twisted trees smoothed by the water.
Black Rose quickly sheds her clothes and is ready for action. Our photo equipment is ready too, so let's get started.
We efficiently move from shot to shot. After about an hour it starts to rain lightly. This wasn't in the plans. The model can't get her hair wet because she has a performance today, so we have to finish the session after only an hour. Good that we managed to take at least some shots.
---
Klementyna, 2023-05-21, Starówka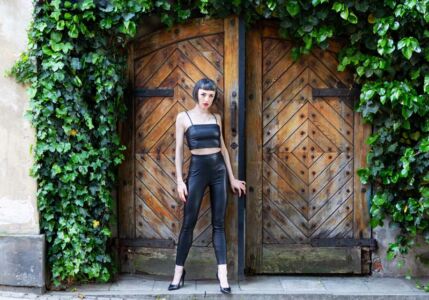 Klementyna came to Warsaw for two days. Yesterday she visited me in my studio, today we will see each other again at an outdoor session in Warsaw's Old Town.
The weather is fine. Although the sun shines quite strongly, we shoot in a city area, so we can always find a shaded place where the model is illuminated only by the light reflected from the sky.
The old town seems to be quite a trivial place to have a photo session, but I have my favorite places that create an interesting background and provide good light.
It's quite crowded today, it's Sunday, middle of the day, nice weather, Old Town. Walking people are a bit of a nuisance, but most are understanding and stop so as not to enter the frame when they see that we are shooting. Thank you very much to all these empathetic anonymous walkers, your kindness helps us a lot.
After visiting 6 or 7 places, we are a bit tired and turn off the camera. Now it's time for ice cream and coffee together. My lovely Marzka is with me, Klementyna is also with her family, we sit together under umbrellas on Castle Square to talk a little.
It was a beautiful day.
---
Klementyna, 2023-05-20, studio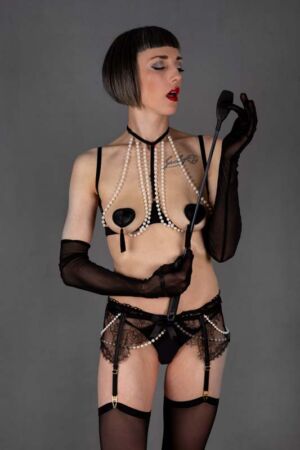 This is my second meeting with Klementyna..
We had a studio session a long time ago, probably five years ago. At that time, we were both very pleased with the effects, we contacted from time to time about repeating this success, but there were still some obstacles, as usual. Life.
And finally we managed to meet again after so many years. Each of us had some problems during this time, but deep down we are the same as before.
Klementyna arrives in Warsaw, they come to my studio with her husband. It's very touching to meet you after so many years. The atmosphere and willingness to take photos is the same as before.
Studio shots today. Tomorrow we are planning an outdoor session in the Old Town.
I love such sessions where, apart from the photography itself, there are a lot of conversations about what happened with us, how we live, what plans we have.
Klementyna and her husband are a wonderful couple, meeting them is great fun and shooting is only a great bonus.
Hopefully the next meeting will be a little sooner than five years from now.
---
Ania and I know each other for a long time, we have had a lot of joint sessions behind us.
She is a proven model, very reliable. And last but not least a beautiful lady.
Quick contact on social media and we arrange a session in the studio. It's wet, cold and dark outside. In my studio, as always, a good atmosphere, delicious coffee, calm work without unnecessary rush and stress.
Ania has a big styling bag with her. And so we snapped a lot of cool photos.
My favourite was a wedding dress. Ania look in it like a queen. That is something you expect from a weeding dress, but anyway …
This is a very successful start to my photographic year 2023, lucky me.