2021 – my Photography activity in the previous year was quiet because of pandemic, I only managed to do one pre-lockdown session (with four beautiful models) and one summer outdoor session where I was able to keep a safe distance from Ania, that was standing before my lense. Then only my personal model Marzka posed for me. She is the best, no doubts, not only in photography, but working with different people also has its advantages, and I miss that so much. Hope for many shooting opportunities.
We'll see what this year will bring us.
---
The Christmas is coming.
Everyone knows that. You can see Santa everywhere, sometimes with his beautiful helper, the Snow Maiden.
This year we are able to make a Santa session. M happily puts on a red jacket with white fur and stands against a black background. Then we do some shots by the Christmas tree.
It was a very energizing session, we both warmed up so at the end we do some shots in winter socks and a Santa hat.
Merry Christmas for everyone!
And of course a happy new year. May 2022 be even better than 2021.
---
Marzka, 2021-11-12, Dolina Racławki
Another day in the valleys near Kraków.
This time we are going to Dubie, where there is an opencast dolomite mine. There, we leave the car in the parking lot and go through the Racławka Valley.
At the beginning, the trail goes very gently along the bottom of a wide valley, along the stream. Then our route turns and we start our ascent along the ravine towards the ridge separating us from the neighboring Szklarka Valley.
The gorge is a bit steeper than the valley floor, but the climb is fairly easy.
Close to the upper end of the ravine, we enter its small side branch and make a quick photo session. A beautiful topless woman on a carpet of leaves with trekking sticks turns out to be a good combination.
The session is very short, we need to move on. We still have a lot of kilometers and climbings ahead of us in this short autumn day.
---
Marzka, 2021-11-11, Dolina Szklarki
We take a few days off for the long November weekend and come to the valleys near Krakow.
It is a part of the Kraków-Częstochowa Upland located northwest of Kraków. A characteristic feature of this part of the Jura are the valleys in which limestone rocks are hidden. The northern part of the Jura, located closer to Częstochowa, has no such valleys, only hills with limestone rocks.
Our hotel is situated in the middle of these walking areas so we don't have to drive far. We usually have a 10-15 minute drive to the beginning of the routes. On some trips we go out on foot directly from the hotel.
On the day of arrival, we reach the hotel just before 14:00. Fortunately, our room is ready, so we just throw our things in it and go on the first route to the beautiful Szklarka Valley.
After passing the reserve, we go out to the high fields and suddenly we see the sunset.
Marzka wants to pose in this scenery very much, so we stop for 20-30 minutes for the session. We're not going back to the car until dark anyway. But we have flashlights, nothing to worry about.
During the session a gentleman is passing by with his dog, but he does not cause any problems and quickly goes away.
---
It's a beautiful, sunny autumn.
We go for walks. It's not summer anymore, but when the sun is shining it is very nice and warm. Marzka is in a thin autumn jacket with only a blouse under it.
On one of the fences we pass, we find red leaves of some climbing plant.
We stop here for a moment and Marzka, wearing her sexy smile, poses among those colorful leaves.
Autumn also has its charms.
---
For a change, a session in the studio.
We have some new gadgets, we need to try them out.
There is a see-through dress, a latex bodysuit with windows on the boobs, and several different nets. Marzka changes her clothes one by one. At first, we take some shots on the balcony. It is not easy there, because the balcony is small and in order to fit the entire figure into the frame, you need to use a wide-angle lens.
Then we move to the studio.
The combination of an orange web and a black background gives the best results. Addition to this is the effect of the end of the session – usually that's when the best shots come out.
---
We have a beautiful summer, long days, and the weather is also good.
I am appointing Ania for an outdoor session in Rejentówka. We have endless meadows and a beautiful little river that you can enter.
The sun is already low, it illuminates the model as it should. Ania changes her outfits and poses with passion. I take photos. There's even a hat.
We often change location. It's not easy, the meadow is not mowed everywhere, sometimes we have to go through the stinging weeds, then I take it on myself and make the way, no matter that I'm in shorts.
Finally, we reach a clearing with nice grass hidden among the birches. I photograph against the setting sun. We also use a tree that has recently fallen over, is lying on the ground and still has fresh, green leaves.
Finally, we go to the river, take some photos here on the shore, then Ania enters the river.
---
Holidays are coming to an end.
The weather is great all the time. Today we rent a kayak again and sail to one of our private secret mini beaches.
As always, we are alone here.
We attach the kayak to the shore so that it does not float away and we enter the water. We start with swimming. When the buoy is dragged behind you, you can feel comfortable even quite far from the shore. When we've both been swimming for a while, it's time to take pictures. Marzka has a see-through scarf with her, which looks very interesting on the pictures.
We take photos in a small clearing, then in a bay next to the canoe.
---
This year we are again visiting one of our favorite places on the lake, the campsite in Swaderki.
The campsite is very large, but I think a lot of lazy people come here. In the local kayak rental, we can always count on floating equipment and we use it scrupulously.
After breakfast, we pack the photographic and film equipment into sealed floating bags, get into the kayak and … disappear in our secret places that are well hidden in the shoreline.
We are on a gutter lake with steep shores, thanks to which there are many fallen trees that fell into the water. These are great places for shooting. And those tiny coves surrounded by reeds. Who knows such places, knows what it is like there. Today the lake is exceptionally empty, we are alone all day, nobody bothers us.
It was a very successful and happy day.
---
Marzka, 2021-06-30 Czarna Hańcza
This year, we start our holidays with the Czarna Hańcza canoeing trip. 
We start at Wigry, then we spend the night in a different place every day. Wysoki Most, Stanica Wodna Frącki, Dworczysko. Finally, we go out to the Augustowski Canal, cross two water locks and reach Lake Mikaszewo.
The weather breaks down here, so we return the kayaks and stay for three nights to rest and swim in the lake. During the trip, the weather is beautiful and it is hot every day.
The river was not very crowded, but from time to time we met other canoeists. Once there was a little longer moment of loneliness, Marzka immediately used it for a quick topless bath.
Why then sit in the kayak in wet clothes?
---
Marzka, 2021-06-05, Rejentówka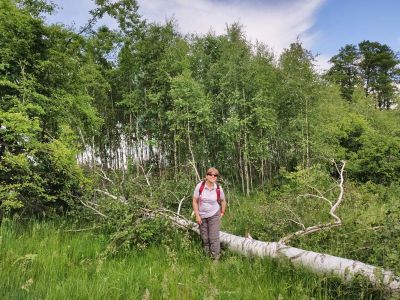 We have June, it's already very warm, the weather is beautiful and there are no mosquitoes.
We hike through meadows full of flowers and tall grass. We reach a secluded place surrounded by trees, where nobody should disturb us. We find a large fallen tree that is easy to climb.
The tree has a very dry and sharp bark, Marzka climbs it in her shoes, only when she is there she takes them off and hands them to me. Now we are starting to implement various ideas. It is not easy. The bark is very aggressive to the skin, Marzka has to move very carefully. And so finally, she has red skin on her back and … below.
I also have no easy task. I move along the trunk, sometimes closer to the model, sometimes further. I have to be careful not to fall, it would be a disaster. Fortunately, our efforts are paying off as expected, we've got some nice shots like Tarzan and Jane.
We descend carefully, this is the end of this session. But not the end of the day!
---
Marzka, 2021-04-18, Rejentówka
Second half of April, it's high time for spring to come.
We have the first really warm days. During the weekend, we visit our favourite area.
There are some other fans of outdoor activities, but we manage to find a quiet place where we can photograph in peace..
It is warm, the sun does not hide behind the clouds. M boldly poses on the  meadows.
From time to time, barbarians on quads pass nearby, then we have to take a short break and plug our ears. But these are only moments, most of the time we can enjoy a wonderful spring.
The days are getting longer, the grass is getting taller, you have to photograph to capture it all. Make it before the mosquito season.
---
Marzka, 2021-02-20, Rządza
This winter finally we had a lot of snow and frost, like in the old times.
This is probably the end now, it is warm, the snow melts instantly.
We decided to treat that as an oppostunity for an outdoor session in the snow. The temperature of +6 Celcius and some sun rays create the minimum thermal comfort for the model.
Snow sessions have always been fascinating to me. This combination of cold winter and intense warmth emanating from a real woman is a wonderful contrast that is always interesting in photography. Marzka, as always, poses with full commitment and great enthusiasm.
Barefoot in the snow!
It is very slippery, and the Rządza river flows lazily along with its shores covered with ice. My darling M, just don't fall into the water because it won't be easy to get you out. The session is short but intense, everything ends well.
Now quickly to the warm car and go home to warm up 😉
---
Marzka, 2021-02-04, studio
The virus is doing well. I don't know what this year will be like, will I have the opportunity to work with many models, or, like last year, only with The Number One?
At the beginning of the year, a short session in the studio.
It's winter so M is wearing a fur coat. Then she changes it to a sheepskin coat.
The studio is comfortable to work in warm, but we will probably have to go out into the snow as well. Fortunately, there is a bit of it this year. There is definitely not enough for our winter sports needs, but it should be enough for a winter photo session.